You Are Here: Mopar Information : Muscle Cars : Modern Mopars : Dodge Challenger Concept : Introduction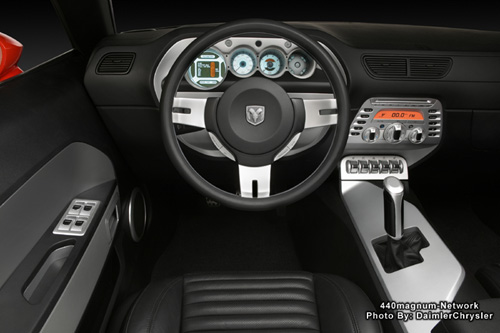 With its thick, easy-grip rim, circular hub and pierced silver spokes, the leather-wrapped steering wheel evokes the original car's "Tuff" wheel, as does the steering column "ribbing." The floor console, its center surface tipped toward the driver, is fitted with a proper "pistol grip" shifter shaped just right to master the quick, crisp shifts possible with the six-speed manual "tranny."
Inasmuch as the original Challenger was the first car to have injection-molded door trim panels (now common practice), the doors received special attention.
"We imagined that the door panel was a billet of aluminum covered with a dark rubberized material," Barrington relates. "Then we cut into it to create a silver trapezoidal cove for the armrest."
Although the flat-section bucket seats of the original Challenger didn't offer much support for aggressive driving, the front seats in the Challenger concept car boast hefty bolsters much like those found on Dodge's famed SRT series cars. The trim covers' horizontal pleats or "fales" provide just a hint of that "70's" look.
Rethought, reworked, reproportioned and redesigned, the Challenger concept car offers iconic a HEMI-powered performance coupe derived from a classic American muscle car.
Source of information and pictures: Chrysler