You Are Here: Mopar Information : Muscle Cars : Modern Mopars : Dodge Challenger Concept : Introduction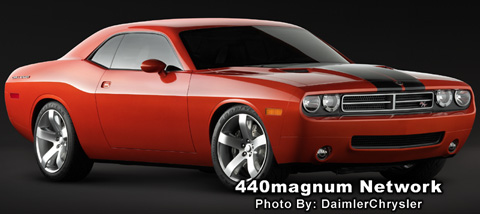 Exterior details one might expect, like a racing-type gas cap, hood tie-down pins, louvered backlite and bold bodyside striping, didn't make the "cut," the designers feeling such assorted bits would detract from the purity of the monochromatic body form. But tucked reassuringly under the rear bumper are the "gotta have" twin-rectangle pipes of the dual exhausts.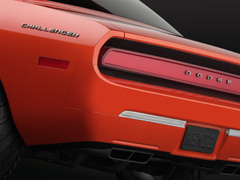 In contrast to the bright Orange Pearl exterior, the interior is a no-nonsense, "let's-get-in-and-go" black relieved by satin silver accents and narrow orange bands on the seat backs. "Though the 1970 model was looked to for inspiration, we wanted to capture the memory of that car, but expressed in more contemporary surfaces, materials and textures," said Alan Barrington, principal interior designer. As with the original car, the instrumental panel pad sits high, intersected on the driver's side by a sculpted trapezoidal cluster containing three circular in-line analog gauge openings.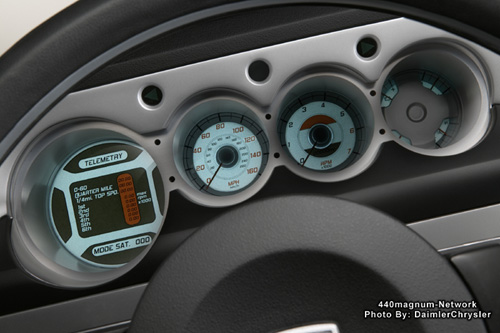 "We designed the in-your-face gauge holes to appear as if you are looking down into the engine cylinders with the head off," relates Barrington. These are flanked outboard by a larger circular "gauge" that is actually a computer, allowing the driver to determine top overall speed, quarter-mile time and speed, and top speed for each of the gears.
Source of information and photos: Chrysler