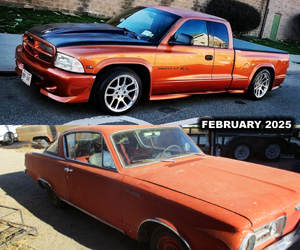 Welcome to our main site, our network is a free online resource focused on Mopars & Mopar related topics. Online for over 20 years, we have developed an extensive network of online properties dedicated to Chrysler, Dodge, Jeep, Plymouth, Ram and Mopar enthusiasts and owners. The site is one of the largest resources on the internet devoted to all things Mopar related.
Own a Mopar or related car or truck? We are presently looking for classic and modern Mopar's to feature on the network. To participate you must own a Mopar. Submit or Update your Mopar.
Related Mopar Sections:

Classifieds – Free classified ads for Mopar related vehicles. Mopars and parts for sale, wanted ads and more. Find what you are looking for or create your own free ad.

Directory – Mopar related car and truck resources on the www. Also includes links to clubs, parts and services and more.

Downloads – Section features a collection of free Chrysler, Dodge, Jeep, Plymouth, RAM and Mopar related downloads. Icons along with 3D Logos a Vin decoder and more.

Information – Covers Mopar related car and truck topics. In addition to information covering engines, muscle cars and trucks. This section also provides production information, specifications, VIN codes breakdowns and more.

Media – Large collection of Mopar related media. Section also includes Downloads, Photos, Video and wallpaper.

News -Section contains a comprehensive source of news and information. Also included are resources, photos, links and more. Covers Chrysler, Dodge, Jeep, Plymouth, RAM and Mopar related vehicles.

Photos – Collection features over 10,000 pictures of Mopars. Includes classic cars and trucks as well as modern vehicles. Photos are from various shows & events.

Screensavers – Large collection of free screensavers featuring Mopars. Built for Mopar car and truck enthusiasts. Section also includes links to more screensavers on our network.

Video – Collection of related videos directly from the archives of Ma-Mopar. For example, Chrysler, Dodge, Jeep, Plymouth and Ram Truck video clips.

Wallpapers – Free downloadable Mopar related wallpapers. Such as Chrysler, Dodge, Jeep, Plymouth cars and trucks. Available for many popular devices and in many screen sizes.