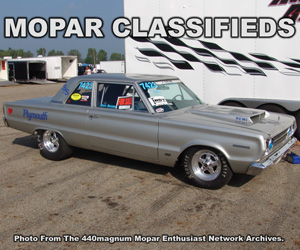 Welcome To our free Mopar Classifieds – One of the oldest and most complete Mopar Only classified system on the internet. Anyone can view our free Mopar only classifieds.
Registration is only required if you plan on posting new ads or replying to existing ads. Registration is quick and free!
Buy or sell classic or modern Mopar related stuff online. Browse ads featuring Cars, Trucks, Parts for sale and parts wanted. Sell or purchase your Mopar or parts today?
Enter Or Register For Our Mopar Classifieds:

Looking for Mopar related vehicles or parts?
Enter Here to view the classifieds ads.

Registration is only required to post new ads.
Joining our classifieds is quick and free!
Latest Mopar Classified Ads: