You Are Here: Mopar Information : Muscle Cars : Modern Mopars : Dodge Challenger Concept : Introduction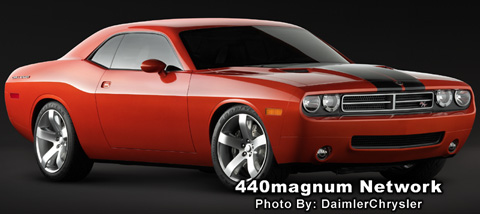 Both the hood and the deck lid of the Challenger concept vehicle are higher than the 1970 in order to lift and "present" the front and rear themes. The front end features the signature Dodge crossbar grille and four headlamps deeply recessed into the iconic car-wide horizontal cavity.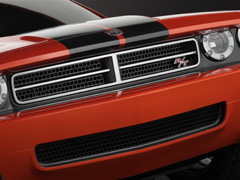 Diagonally staggered in plan view, the outboard lamps are set forward, the "six-shooter" inboard lamps slightly rearward. At the rear, the car-wide cavity motif is repeated, encompassing a full-width neon-lit taillamp. Both the grille and the front and rear lamps are set into carbon-fiber surrounds. Like the original, slim rectangular side marker lamps define the ends of the car.
Bumpers are clean (no guards), body-color and flush with the body. "This is something we would have loved to do on the original Challenger," said Jeff Godshall, who was a young designer in the Dodge Exterior studio when the first Challenger was created, "but the technology just wasn't there. With the Challenger concept, however, the Pacifica Studio designers are able to realize what we wanted in our perfect world."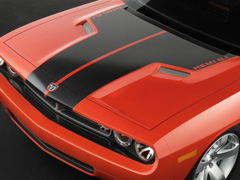 The hood reprises the original Challenger "performance hood" and its twin diagonal scoops, now with functional butterfly-valve intakes. Designed to showcase the modern techniques used in fabricating the car, what look like painted racing stripes are actually the exposed carbon fiber of the hood material. The Challenger concept is a genuine four-passenger car. "You can sit up in the back seat," said Castiglione. Compared to the original, the greenhouse is longer, the windshield and backlite faster, and the side glass narrower.
All glass is set flush with the body without moldings, another touch the original designers could only wish for. The car is a genuine two-door hardtop — no B-pillar — with the belt line ramping up assertively at the quarter window just forward of the wide C-pillar.
Source of information and pictures: Chrysler