You Are Here: Mopar Information : Muscle Cars : Modern Mopars : Dodge Challenger Concept : Introduction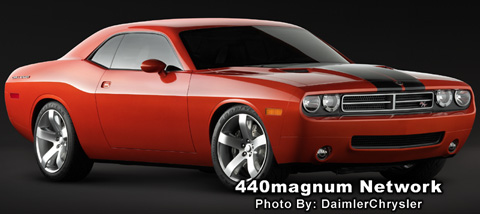 Above: Dodge Challenger concept vehicle — bold concept is a thoroughbred in 1970 "Pony Car" Tradition.
In creating the new Dodge Challenger concept car the designers at Chrysler Group's West Coast Pacifica Studio knew they had a rich heritage to draw upon.
They also knew they had an obligation to "get it right."
Tasked with the enviable assignment of developing a hot-looking performance coupe using Chrysler Group's advanced rear-wheel drive LX platform and its fabled HEMI® engine, the designers explored a variety of options, eventually gravitating to "something" for the Dodge brand — appropriate given that brand's bold performance image. The idea of reinventing the highly-collectible Challenger quickly came to mind.
Eager to begin, the designers drew up a "short list "of the essential attributes of a muscle car: distinctly American; mega horsepower; pure, minimal, signature lines; aggressive air-grabbing grille; and bold colors and graphics.
"Challenger draws upon the initial 1970 model as the icon of the series," said Tom Tremont, Vice President – Advanced Vehicle Design. "The 1970 model is the most sought after by collectors. But instead of merely recreating that car, the designers endeavored to build a Challenger most people see in their mind's eye — a vehicle without the imperfections like the old car's tucked-under wheels, long front overhang and imperfect fits. As with all pleasurable memories, you remember the good and screen out the bad.
"We wanted the concept car to evoke all those sweet memories … everything you thought the Challenger was, and more."
"During the development of the concept car," says Micheal Castiglione, principal exterior designer, "we brought an actual 1970 Challenger into the studio. For me, that car symbolizes the most passionate era of automotive design."