You Are Here: Mopar Information : Muscle Cars : Modern Mopars : Dodge Challenger Concept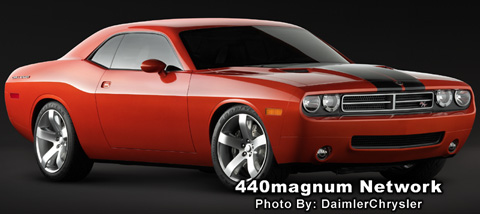 Above: Dodge Challenger concept vehicle — bold concept is a thoroughbred in 1970 "Pony Car" Tradition.
The 2006 Dodge Challenger concept resurrects another authentic American muscle car for the Dodge brand and continues to build on the success and heritage of the HEMI engine.
"This concept possesses the heritage and classic forms of the original Dodge Challenger," said Trevor Creed, Senior Vice President – Design, Chrysler Group. "However, the ability to use the Dodge Magnum, Dodge Charger and Chrysler 300 series architecture as the concept's foundation allowed us to bring a new level of quality and fit-and-finish to a muscle car icon.

Dodge Challenger Concept Introduction

Dodge Challenger Concept Specifications

Dodge Challenger Concept HEMI Engine

Dodge Challenger Concept Pictures

Dodge Challenger Concept Drawings
Source of information and photos: Chrysler
The Mopar related information found in this section is believed to be accurate. The 440magnum Network assumes no responsibility for errors or omissions in anything that is referenced by or linked to and from this site. This information is provided "as is" and was obtained from Chrysler Corporation, WWW, Books and other Reference Materials.