You Are Here: Mopar Information : Muscle Cars : Classic Mopars : Dodge Charger Super Bee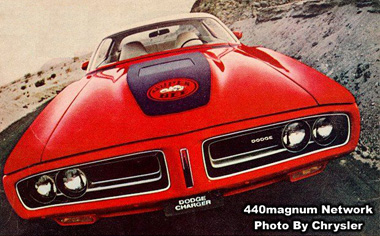 1970 was the end of the two door models in the Dodge Coronet lineup. Still needing a budget performance car Dodge added Super Bee to the Charger lineup. This unique one year model would also be the last Super Bee's produced. Priced under the Dodge Charger R/T.
The 1971 Dodge Charger Super Bee offered buyers a low-cost, high performance package with a 383 Magnum four barrel V-8 rated at 300 hp. Also included was a three speed manual floor shifted transmission. A host of other options were available including the 440magnum Six Pack and 426 Hemi engines.

1971 Dodge Charger Super Bee General Information

1971 Dodge Charger Super Bee Body Specifications

1971 Dodge Charger Super Bee Performance Information

1971 Dodge Charger Super Bee Production Information
The Mopar related information found in this section is believed to be accurate. The 440magnum Network assumes no responsibility for errors or omissions in anything that is referenced by or linked to and from this site. This information is provided "as is" and was obtained from Chrysler Corporation, WWW, Books and other Reference Materials.