You Are Here: Mopar Information : Muscle Cars : Classic Mopars : Dodge Charger Super Bee :  Info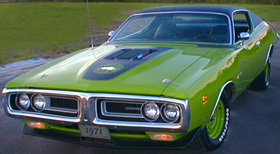 Dodge unleashed the third generation Charger's in 1971 with six models. New for 1971 was the Charger Super Bee, a low buck, high performance street machine.
Left: 1971 Dodge Charger Super Bee submitted by John Bober.
Completely redesigned for 1971, Charger's received a new body. Featuring a new semi fastback roofline, flush rear window and an integral rear deck spoiler. The new Charger used a 2 inch shorter wheelbase and was 3 inches shorter than the previous year Charger. Buyers looking for performance had two models to choose from Dodge Charger R/T or the Dodge Charger Super Bee.
Priced around $3,300 the Charger Super Bee featured a 300 horsepower 383 Magnum four barrel V-8 engine. Three speed floor shifted manual transmission, power bulge hood (black finished), tape stripes, Super Bee decals, Charger 500 interior with a bench seat and dual exhausts. Buyers looking for mopower could opt for the 440 Six Pack or the legendary 426 Hemi.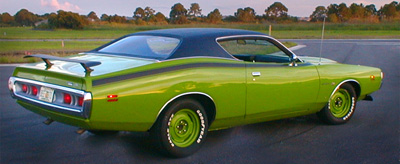 Above: 1971 Dodge Charger Super Bee owned by John Bober. Visit here for more information on John's Cool Super Bee.
The Super Bee also included a Rallye Suspension Package, which included heavy-duty torsion bars and rear springs, front anti-sway bar, heavy duty shocks and heavy duty front and rear drum brakes. Also included was fat F70x14 wide tread, white sidewall, bias belted tires. 1971 was the last year the Dodge Super Bee was produced.
The Mopar related information found in this section is believed to be accurate. The 440magnum Network assumes no responsibility for errors or omissions in anything that is referenced by or linked to and from this site. This information is provided "as is" and was obtained from Chrysler Corporation, WWW, Books and other Reference Materials.