Rebel TRX Concept With 575 Supercharged Horsepower
Supercharged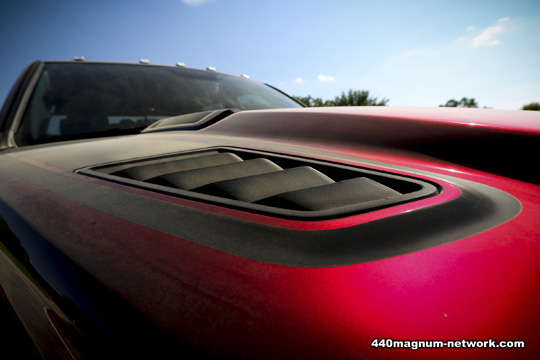 The engine's blower sits on top of the intake manifold making the supercharged 6.2-liter V-8 a tall engine package. Engineers and designers made modifications to the Ram 1500 engine bay, including the forward cab area to fit the engine and meet acceptable gap tolerances. A custom induction system was designed to feed massive amounts of air to the supercharger and a modified Ram Heavy Duty hood helps clear the engine's additional height.
The engine features a forged-steel crankshaft with induction-hardened bearing surfaces able to withstand firing pressures of 1,595 psi (110 bar) – the equivalent of five family sedans standing on each piston, every two revolutions. A specially tuned crank damper has been tested to 13,000 rpm.
The 2,380cc per revolution blower features integral charge coolers and an integrated electronic bypass valve to regulate boost pressure to a maximum of 80 kPa (11.6 psi). The supercharger unit is sealed for life with premium synthetic oil, boasts a drive ratio of 2.36:1 and has a maximum speed of 14,600 rpm. The drive system's one-way clutch de-coupler improves refinement, while allowing for precisely the kind of auditory feedback high-performance customers find alluring.
Such performance promises an under-hood environment that is torturous, to say the least. Engineers responded with some clever applications.
The large-nosed crank drives a high-flow gerotor oil pump that feeds a lubrication circuit servicing eight high-flow piston cooling jets. A high-capacity oil to air heat exchanger, mounted behind the front bumper, mitigates oil temperatures when driving conditions are harshest, such as sand or mud.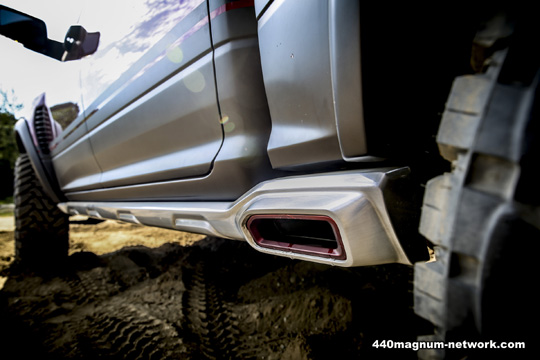 The supercharged 6.2-liter V-8 exhaust flows through a 3-inch H-pipe dual side system and out dual five-inch tips that dump just in front of the rear wheels.