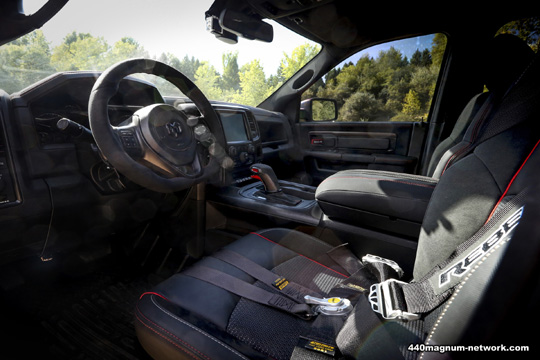 Interior
When traversing rough terrain at ludicrous speeds, seating is important. Sliding around like a towel across a freshly waxed hood is not ideal. The interior design team chose materials to help the occupants stay planted and in control. Suede with accent mesh cloth inserts cover the rear bench and front buckets. The suede inserts provide tremendous grip to clothing. The front seats integrate sport-sanctioned lateral support upper bolsters with embroidered logos. All four seats are strapped with six-point harnesses, further fixing occupants to their proper locations.
The TRX's black anodized steering wheel is trimmed with black suede and Header Red accent stitching. New paddle shifters stretch above and below the steering wheel centerline and allow the driver to maintain transmission control with fingertips. Ram's 4×4 Performance Control System is engaged with a cog-shaped rotary dial for different modes of operation, indicated by a Rebel TRX pictogram for different environments: Normal, Wet/Snow, Off-road and Baja.
In an effort to remove hard points inside the cockpit, the TRX instrument panel (IP) is padded and features Header Red accent stitching. An open upper glove box with elastic straps holds a sturdy TRX-labeled bag with color matched tools. When limit driving, the operator's front cluster can often provide a lifeline to the truck's situation. A seven-inch thin-film transistor (TFT) cluster borrowed from the Rebel features muddy tracks and TRX badge graphics with reconfigurable gauges. The same graphics fill the screen on an 8.4 Uconnect. Center stack detail includes carbon fiber and red metal inlays with anodized parts replacing knobs and controls. To record TRX's accomplishments, a custom camera mount is located at the rearview mirror.
The center console matches efforts on the IP and includes a concept polystable shifter trimmed in black suede and Header Red stitching. The soft console lid features Header Red accent stitching and elastic straps, creating additional secured storage.
Designers re-trimmed the Rebel armrests with solid Header Red accent stitching and wrapped the upper bolster in suede to keep arms in place. Trim rings are covered in black anodized paint and red metal-inlayed carbon fiber spears point to nylon strap door pulls embroidered with "Release."
A sport bar covered in black anodized paint provides anchor points dedicated to the six-point harnesses and spans from B-pillar to B-pillar, formed to allow maximum possible seat travel. Suede-wrapped headliner and visors give a premium feel, but not overzealous. A- and B-pillar grab handles are covered in vinyl with Header Red stitching.
The Rebel TRX interior floor trades carpet for black rubberized coating. Black all-weather mats from Mopar reduce foot slip when foot-to-pedal placement is crucial.
Frame
The high-strength steel frame structure of the Ram Rebel TRX is virtually unchanged when compared to a standard Ram 1500. The frame uses low-torsion (stiffness) attributes that increase durability, stability and handling precision.
The Rebel TRX frame accepts the new supercharged powertrain and incorporates new suspension design. As in all Ram 1500s, portions of the frame are hydroformed for dimensional accuracy (hydroforming reduces the amount of welding, which leads to distortion) and side rails are fully boxed.
A 40 percent increase in suspension travel and larger tires also contribute to incredible ground clearance. This combination allows the TRX concept to overcome surface obstacles at high speed.