You Are Here: Mopar Information : Muscle Cars : Modern Mopars : Dodge Charger SRT8 Super Bee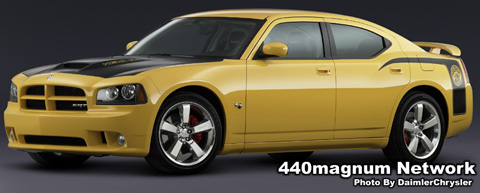 Adding More "Show" to the "Go": Dodge Re-introduces Performance Nameplate and Classic Exterior Color on 2006 and 2007 Dodge Charger Models. A pair of names familiar to many automotive enthusiasts are again part of the Dodge performance lineup with the return of the Super Bee nameplate for the 2007 Dodge Charger SRT8 and the "TorRed" exterior color for the 2006 Dodge Charger Daytona R/T.
"The Dodge Charger embodies modern American muscle, and at the same time, carries on a great performance heritage," said George Murphy, Senior Vice President – Global Brand Marketing, Chrysler Group. "It was only natural to give a nod to that heritage with the re-introduction of a famous Dodge performance nameplate and a high-impact heritage paint name."
Choose A Dodge Charger SRT8 Super Bee Section Below:

Dodge Charger SRT8 Super Bee Information "Bee All It Can Be"

Dodge Charger SRT8 Super Bee Photos

2008 Dodge Charger SRT8 Super Bee

1971 Dodge Charger Super Bee
The Mopar related information found in this section is believed to be accurate. The 440magnum Network assumes no responsibility for errors or omissions in anything that is referenced by or linked to and from this site. This information is provided "as is" and was obtained from Chrysler Corporation, WWW, Books and other Reference Materials.