You Are Here: Mopar Information : Muscle Cars : Modern Mopars : Dodge Charger SRT8 Super Bee : Info
Bee All It Can Be – The 2007 Dodge Charger SRT8 Super Bee is the first special edition of the "Charger on steroids" from Chrysler Group's Street and Racing Technology (SRT). It features "Detonator Yellow" exterior color with black hood and deck-lid face, Super Bee logos on front and rear fenders, and contrasting yellow stitching on the seats, steering wheel and shift knob.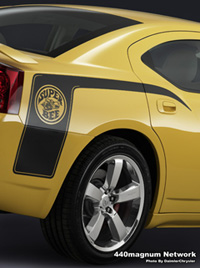 Powered by the SRT-engineered 6.1-liter HEMI V-8 producing 425 hp and 420 lb.-ft. of torque, the Dodge Charger SRT8's powertrain represents a new level in HEMI performance, with 85 additional horsepower — 25 percent more than the 5.7-liter HEMI.
Other SRT enhancements include functional, performance-oriented styling, world-class ride and handling, race-inspired interior appointments and benchmark braking. All together, the 2007 Dodge Charger SRT8 Super Bee is capable of 0-60 mph in the low 5 seconds, 0-100-0 in under 17 seconds and 60-0 mph braking in approximately 110 feet.
The legendary Super Bee nameplate made its debut in 1968 within the Dodge Coronet line. As the newest member of Dodge's "Scat Pack" performance group, the '68 Super Bee originally carried an MSRP of just over $3,000. It was offered as a Dodge Charger only in its last model year, 1971. Restored examples fetch between $80,000 – $100,000 today.
The 2007 Dodge Charger SRT8 Super Bee is the latest edition of the ultimate American muscle sedan, and will be available in dealerships this fall. Pricing has not yet been announced.
The Mopar related information found in this section is believed to be accurate. The 440magnum Network assumes no responsibility for errors or omissions in anything that is referenced by or linked to and from this site. This information is provided "as is" and was obtained from Chrysler Corporation, WWW, Books and other Reference Materials.