You Are Here: Mopar Information : Muscle Cars : Modern Mopars : Dodge Charger SRT8 Super Bee : Photos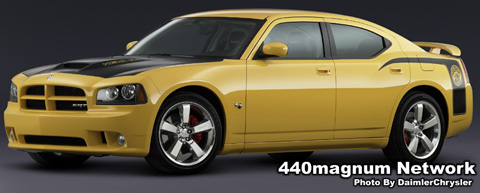 Above: Offered in "Detonator Yellow" with black accents, the 2007 Dodge Charger SRT8 Super Bee is the first special edition of the "Charger on Steroids." Powered by the Street and Racing Technology-engineered 6.1-liter HEMI producing 425 horsepower, the Dodge Charger SRT8 Super Bee features special logos on front and rear fenders, contrasting yellow stitching on the seats, steering wheel and shift knob.

Above: The 2007 Dodge Charger SRT8 Super Bee offers Street and Racing Technology (SRT) enhancements including functional, performance-oriented styling; world-class ride and handling; race-inspired interior appointments and benchmark braking.
Source Of Information & Photos: Chrysler
The Mopar related information found in this section is believed to be accurate. The 440magnum Network assumes no responsibility for errors or omissions in anything that is referenced by or linked to and from this site. This information is provided "as is" and was obtained from Chrysler Corporation, WWW, Books and other Reference Materials.