You Are Here: Mopar Information : Muscle Trucks : Rumble Bee Concept
Unveiled at the 2013 Woodward Dream Cruise, the Ram 1500 Rumble Bee concept is a truly one-of-a-kind truck. In 2004, Ram truck designers took inspiration from the Dodge Super Bee muscle car of the late '60s to create the original Rumble Bee. For the 10-year anniversary of the Rumble Bee, the Ram Design Team created a unique concept to celebrate and show the heritage of Ram's unique truck designs that include the Lil Red Express, Warlock and Power Wagon.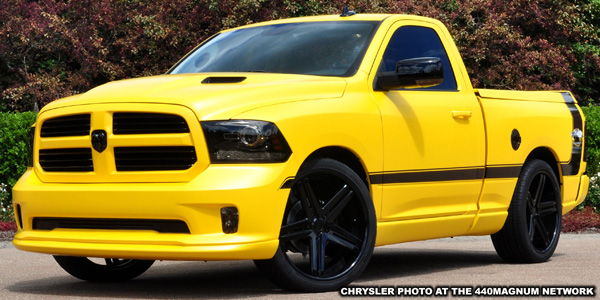 The Rumble Bee concept began life as a 2013 Ram 1500 R/T. Keeping with tradition, the lightweight, two-door; 2WD configuration is covered in "Drone Yellow" paint with a unique matte finish. The rare color/finish flows over the entire truck including the bumpers, flares and the Mopar ground effects kit.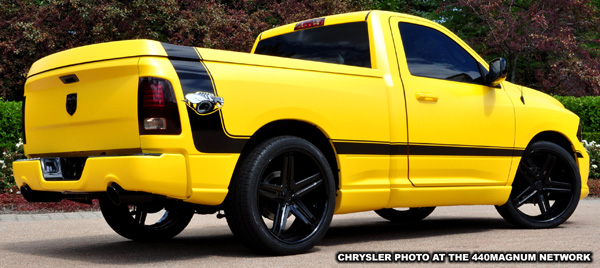 True to form, a new "Speed Bee" design is swathed on both sides of the truck within a gloss black stripe that fades into honeycomb. The stripe glides front to rear, around the top of the bed and over the Mopar tonneau cover to memorialize HEMI-powered vehicles of the late 1960s and early 1970s, which dominated the racing scene. Factory 22-inch wheels are replaced with gloss black, 24-inch, Vellano VRH custom rollers and a 2-inch drop provided by King Suspension enhances handing performance and appearance with the help of a reservoir shock at each wheel. The grille, hood vents, badging, fuel door and the dual exhaust tailpipes are coated in gloss black, carrying the theme on all sides.
HEMI Engine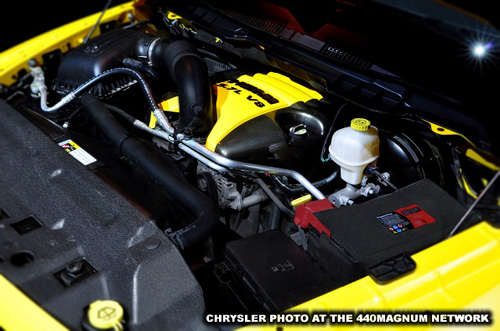 Under hood, the Ram 1500 Rumble Bee concept houses a 5.7-liter HEMI with 395 horsepower and 407 lb.-ft. of torque, mated to a TorqueFlite 8-speed automatic transmission. The HEMI is fitted with a custom gloss yellow and black engine cover with honeycomb graphic pattern. Mopar's cold-air intake system gives the HEMI a bump in performance and relentless torque is transferred through a 4.10 gear set for quick jumps off the line.