You Are Here: Mopar Information : Muscle Cars : Modern Mopars : Dodge Neon SRT4 :  2003 Interior
The first thing drivers will notice when they strap into the newest pocket rocket on the street are the special performance seats. Taking cues from the seats in Dodge Viper SRT-10, Dodge SRT-4 front seats have enhanced lumbar and lateral sections for better support during racing-type maneuvers. The new Agate-colored cloth on the body of the seats is textured for better grip through the corners. The side bolsters of the front seats are trimmed in vinyl and curve to stabilize occupants, further enhancing the performance racing feel of the vehicle. And passengers traveling in the back of SRT-4 aren't left out of the racing experience, since the car's rear seats also feature the textured fabric.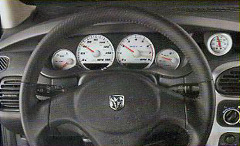 A new carbon-fiber-look leather wraps the top of the Dodge SRT-4 steering wheel for greater control. The wheel's unique three-spoke design also provides a better view of the instrument cluster gauges, an important feature for performance-minded drivers, especially SRT-4 owners who want to know when they've hit the "sweet six"- – accelerating from 0-60 mph in just 5.9 seconds.
Unique gauge designs in Dodge SRT-4 feature special silver faces with satin silver ring accents. Gauge pointer hubs also have a metal finish, giving them the feel of finely tuned precision instruments dedicated to performance. The same satin metal trim also is featured on the instrument panel center stack, around heater, ventilation and air conditioning (HVAC) knobs and on door handles. The performance-enhanced design continues down on the floor where a new satin silver cue ball shift knob tops a short-throw shifter that is surrounded by a boot made of the same textured carbon-fiber-look leather as the steering wheel.
As drivers turn the key and rev the engine, special Dodge SRT-4 pedals announce they're about to unleash a car meant for racing. The vehicle's unique cast aluminum accelerator, clutch and brake pedals feature a cast dimple surface texture to assure good traction when drivers put the pedal to the metal. Against the monochromatic Agate-colored fabric and side bolsters, the bright trim pieces create a complete performance and professional appearance.
The Mopar related information found in this section is believed to be accurate. The 440magnum Network assumes no responsibility for errors or omissions in anything that is referenced by or linked to and from this site. This information is provided "as is" and was obtained from Chrysler Corporation, WWW, Books and other Reference Materials.
Source Of Information: Chrysler