You Are Here: Mopar Information : Muscle Cars : Modern Mopars : Dodge Neon SRT4 :  2003 Information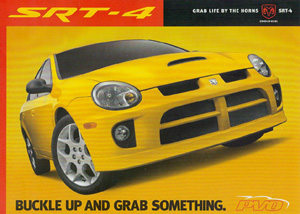 The 5.9 second Dodge SRT-4 a Sweet Place to Start for Enthusiasts or Everyday Drivers – The Dodge SRT-4 is designed to smoke the tuner market with an estimated top speed of 148 mph, sub-six-second 0-to-60 mph times. Estimated to be the quickest production car available in the United States for less than $20,000. The Dodge SRT-4 id the second quickest car in the Dodge brand lineup only the Dodge Viper is quicker. Sport Compact Car magazine agreed, naming the Dodge SRT-4 its Compact Car of the Year for 2003.
While all racing enthusiasts want their car to perform well, they also want it to look great, too, inside and out. Both the interior and exterior design of the Dodge SRT-4 include cues that convey the customized look that enthusiasts strive for. the Dodge SRT-4 includes unique front and rear fascias, sill-mounted ground effects and a Mopar signature deck-mounted spoiler.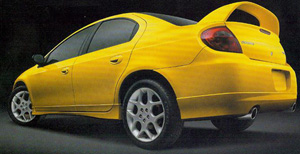 On the outside, performance cues start up front where a new front fascia and a unique steel hood with an integral air intake perches, ready to cool the powerful 2.4-liter turbo engine lurking beneath. The Dodge crosshair grille design gives Dodge SRT-4 a bolder face. Just behind the lower grille sits a cast aluminum intercooler.
Dodge SRT-4 features special 17-inch aluminum wheels, which were shown on the original 2000 Neon SRT concept car. The expressive wheels were purposefully designed to look like aftermarket wheels, with tape-on weights and fuller width rim sections. The unique spoke pattern allows for better airflow to the brakes. Viewed from the side, Dodge SRT-4's clean design mimics the sleek look popular on the street. A special side sill and door cladding give SRT-4 the low, stealthy appearance of a car made for racing. A new rear fascia and deck spoiler continue the performance look of Dodge SRT-4. "The boldness of the spoiler adds to the outrageous quality of the vehicle.
The taller, basket-handle type spoiler also improves vehicle handling by generating downforce. Minimal satin silver badging completes the exterior performance theme and maintains the uncluttered appearance preferred by many enthusiasts. Like the Dodge Viper SRT-10, the number four in SRT-4 denotes the number of cylinders in the engine.
Paired with SRT-4's turbo-charged powerplant is a high-performance transaxle that features a heavy duty, five-speed manual NVG T850 transaxle and a muffler-less, dual outlet exhaust system with wider, 2.5-inch polished stainless tips. Adding to the performance capability are a larger diameter throttle body and a high flow intake manifold. New equal-length halfshafts, high capacity clutch and drive plate assemblies and unique engine and transaxle mounts round out the Dodge SRT-4 transmission system.
SRT-4 owners also will enjoy the car's agile handling capability made possible by 17-inch aluminum performance wheels, sticky 50 series tires, specially tuned strut and spring assemblies (front and rear), sway bars (front and rear), updated knuckles and a unique K-member. Dodge SRT-4 also features ABS and four-wheel disc brakes with larger diameter calipers and rotors, which lie ready and waiting to stop all the power under the hood. The vehicle's standard 11-inch disc brakes with upgraded pads assure that SRT-4 can drop from 60-0 mph in less than 120 feet.
Production of Dodge SRT-4 started in the spring of 2003 at the Belvedere (IL.) Assembly Plant, The facility began building Neon vehicles in January of 1994, is also the manufacturing site for all Dodge Neon models (Base, SE, ES, RT and ACR).
The Mopar related information found in this section is believed to be accurate. The 440magnum Network assumes no responsibility for errors or omissions in anything that is referenced by or linked to and from this site. This information is provided "as is" and was obtained from Chrysler Corporation, WWW, Books and other Reference Materials.
Source Of Information: Chrysler