You Are Here: Mopar Information : Muscle Cars : Modern Mopars : Dodge Charger Police Edition : Info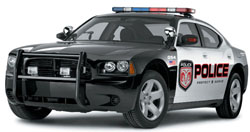 Dodge charges into the police car market this fall with the all-new 2006 Dodge Charger police vehicle, offering law enforcement agencies a four-door sedan with all the power, handling and functionality they require to effectively patrol the streets.
"With rear-wheel drive and available HEMI® power at the pavement, the Dodge Charger provides optimum police car pursuit performance," said Darryl Jackson, Vice President – Dodge Marketing, Chrysler Group. "Dodge has a strong police heritage and is proud to offer vehicles armed with modern muscle and cutting-edge technology."
The 2006 Dodge Charger police vehicle will join the previously announced Dodge Magnum police vehicle to round out Dodge's growing fleet of bold, powerful and capable vehicles for law enforcement agencies.
"We listened to what law enforcement officers asked for and paid attention to the details that are important to them," said Ray Fisher, Vice President – Sales, Service and Parts Operations, Chrysler Group. "By integrating features and functionality into the original design of the Dodge Charger, we can give our police customers an affordable, capable vehicle with industry-leading innovations."
For the ultimate in pursuit power, the Dodge Charger police vehicle will be available with a 5.7-liter HEMI V-8 engine that produces 340 horsepower at 5000 rpm and 390 lb.-ft. of torque at 4000 rpm. The V-8 HEMI engine features Chrysler Group's Multi-displacement System (MDS), which seamlessly alternates between smooth, high fuel economy four-cylinder mode when less power is needed and V-8 mode when more power is required. Fuel efficiency improves by up to 20 percent with MDS, but not at the expense of performance. Dodge Charger police vehicles equipped with HEMI engines will be able to go from zero to 60 mph in just 6.0 seconds.
The 2006 Dodge Charger police car also will be available with a powerful, 3.5-liter High Output V-6 engine that provides 250 horsepower at 6400 rpm and 250 lb.-ft. of torque at 3800 rpm, offering an outstanding blend of performance and fuel economy.
A fully electronic five-speed automatic transmission with an Electronically Modulated Converter Clutch (EMCC) offers improved shift feel to match a variety of driving styles, situations and road conditions. This transmission is standard on all Dodge Charger police cars. Heavy-duty brakes and linings, also standard on Charger police vehicles, provide secure and stable deceleration and braking capability.
Source Of Information: Chrysler
The Mopar related information found in this section is believed to be accurate. The 440magnum Network assumes no responsibility for errors or omissions in anything that is referenced by or linked to and from this site. This information is provided "as is" and was obtained from Chrysler Corporation, WWW, Books and other Reference Materials.