You Are Here: Mopar Information : Muscle Cars : Modern Mopars : Dodge Charger Police Edition : ESP Info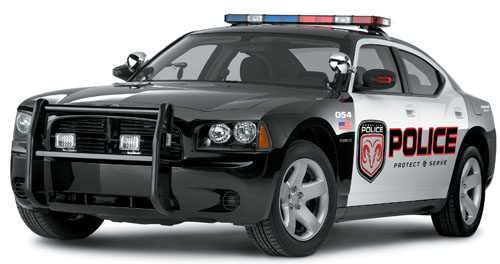 Dodge Charger police vehicles will include an Electronic Stability Program (ESP) with Emergency Brake Assist, All-speed Traction Control and four-wheel Anti-lock Brake System (ABS). Combined, these features will provide balance and control for officers in a variety of surface and weather conditions.
ESP enhances driver control and helps maintain directional stability in turns, even on uneven surfaces, patchy snow, ice or gravel. If there is a discernible difference between what the driver asks through the steering and the vehicle's path, ESP applies selective braking and throttle control to put the car back onto the driver's intended path
Emergency Brake Assist detects when maximum braking is required through sensing the rate of brake application. By applying full brake pressure to all four brakes, this system improves stopping distance
All-speed Traction Control enhances mobility and prevents wheel slip when accelerating on slippery surfaces. It also provides a measure of directional stability control and helps keep the car on its intended course. The system works by braking the slipping wheel in low-traction situations. However, it also can adjust the throttle control, making the vehicle less reliant on brake applications alone.
ABS keeps the vehicle straight and retains steering capability while braking on slippery surfaces by preventing wheel lock-up.
Both passive and active safety features also are incorporated in the new Dodge Charger police vehicles. These include: advanced multistage driver and front passenger air bags, a front passenger Occupant Classification System (OCS) for controlled airbag deployment, constant force seat belt retractors, pretensioners, an energy-absorbing steering column, optional side-curtain airbags and a tire pressure monitoring system to alert officers of low tire pressure.
Source Of Information: Chrysler
The Mopar related information found in this section is believed to be accurate. The 440magnum Network assumes no responsibility for errors or omissions in anything that is referenced by or linked to and from this site. This information is provided "as is" and was obtained from Chrysler Corporation, WWW, Books and other Reference Materials.