You Are Here: Mopar Information : Production Numbers : Plymouth Barracuda : 1972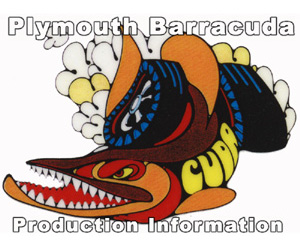 Total Barracuda Production: 18,490
Barracuda Production: 10,662
225 Engine Total: 820 – Manual: 224 – Automatic: 596
318 Engine Total: N/A – Manual: N/A – Automatic: 7,285
340 4bbl Engine Total: 6,354 – Manual: 4,315 – Automatic: 2,039
'Cuda Production: 7,828
318 Engine Total: 1,946 – Manual: N/A – Automatic: N/A
340 4bbl Engine Total: 5,864 – Manual: 4,163 – Automatic: 1,701
N/A = Information unavailable.
Own a 1972 Plymouth Barracuda? Get it featured on our network. Click here to submit your Mopar!
Information found in the 1972 production section is believed to be accurate. The Mopar Enthusiast Network assumes no responsibility for errors or omissions in this information. This information should only be used as a guideline, actual production numbers may vary. This information is provided "as is" and was obtained from the www, books and other reference Materials.