You Are Here: Mopar Information : Production Numbers : Plymouth Barracuda : 1969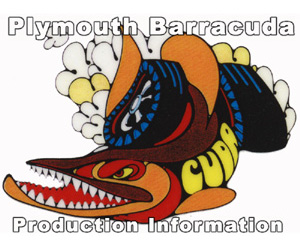 Total Barracuda Production: 31,987
225 Engine Total: 5,808 – 3 Speed Manual: 918 – Automatic: 4,890
V8 Engine Total: 20,337
318 Engine Total: 15,637 – 3 Speed: 366 – 4 Speed: 815 – Automatic: 14,456
340 Engine Total: 3,513 – 4 Speed Manual: 1,708 = Automatic: 1,707
340 S Total: 1,839 – Manual: N/A – Automatic: N/A
340 'Cuda Total: 666 – 4 Speed Manual: 470 – Automatic: 196
383 S Total: 718 – Manual: 391 – Automatic: 327
383 'Cuda Total: 462 – 4 Speed Manual: 153 – Automatic: 309
440 'Cuda Total: 340 – Automatic Only
Barracuda Fast Back Production: 17,788
225 Engine Total: 1,830 – 3 Speed Manual: 315 – Automatic: 1,515
V8 Engine Total: 11,827
318 Engine Total: 8,161 – 3 Speed: 201 – 4 Speed: 509 – Automatic: 7,451
340 Engine Total: 2,685 – 4 Speed Manual: 1,455 – Automatic: 1,230
340 S Total: 1,431 – Manual: N/A – Automatic: N/A
340 'Cuda Total: 568 – 4 Speed Manual: 402 – Automatic: 166
383 S Total: 603 – 4 Speed Manual: 331 – Automatic: 272
383 'Cuda Total: 378 – 4 Speed Manual: 130 – Automatic: 248
440 'Cuda Total: N/A
Barracuda Coupe Production: 12,757
225 Engine Total: 3,730 – 3 Speed Manual: 563 – Automatic: 3,167
V8 Engine Total: 7,563
318 Engine Total: 6,671 – 3 Speed: 151 – 4 Speed: 250 – Automatic: 6,270
340 Engine Total: 703 – 4 Speed Manual: 219 – Automatic: 386
340 S Total: 325 – Manual: N/A – Automatic: N/A
340 'Cuda Total: 98 – 4 Speed Manual: 68 – Automatic: 30
383 S Total: 98 – Manual: 53 – Automatic: 45
383 'Cuda Total: 84 – 4 Speed Manual: 23 – Automatic: 61
440 'Cuda Total: N/A
Barracuda Convertible Production: 1,442
225 Engine Total: 248 – 3 Speed Manual: 40 – Automatic: 208
V8 Engine Total: 947
318 Engine Total: 805 – 3 Speed: 14 – 4 Speed: 56 – Automatic: 735
340 Engine Total: 125 – 4 Speed Manual: 34 – Automatic: 91
340 S Total: 83 – Manual: N/A – Automatic: N/A
340 'Cuda Total: NONE – 4 Speed Manual: N/A – Automatic: N/A
383 S Total: 17 – Manual: 7 – Automatic: 10
383 'Cuda Total: NONE – 4 Speed Manual: N/A – Automatic: N/A
440 'Cuda Total: N/A
N/A = Information unavailable.
Own a 1969 Plymouth Barracuda? Get it featured on our network. Click here to submit your Mopar!
Information found in the 1969 production section is believed to be accurate. The Mopar Enthusiast Network assumes no responsibility for errors or omissions in this information. This information should only be used as a guideline, actual production numbers may vary. This information is provided "as is" and was obtained from the www, books and other reference Materials.