You Are Here: Mopar Information : Muscle Trucks : Urban Ram Concept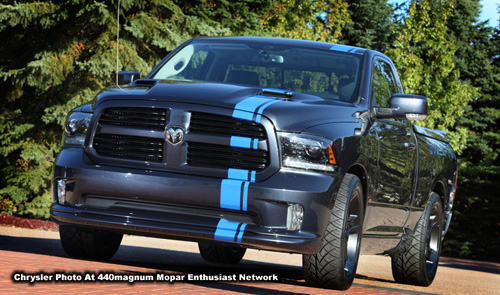 Based on the 2013 RAM 1500, the Urban Ram comes ready to play, with impressive toys both under the hood and throughout the exterior. The 2013 Ram 1500 packs plenty of muscle with a 392 HEMI engine, but that wasn't aggressive enough. Add Mopar headers, a Mopar cold-air intake and Mopar performance dual exhaust with chrome tips into the mix, and the intimidation factor of the Urban Ram hits the redline. A Mopar performance handling kit and SRT rotors and brake calipers help rein in all that horsepower.
The exterior look is a clean, Modern Blue paint scheme accented with a "Mopar" blue stripe, reminiscent of the limited-edition Mopar '11 Charger, and a Mopar logo emblazoned on the rear side panel on the driver's side. The already-forceful feel of the Urban Ram is put into overdrive with a sport performance hood and body kit.
The potent look of the Ram is carried out with 22-inch R/T wheels painted hyperblack, with a Ram logo wheel center cap also done in hyperblack. The fiberglass tonneau cover matches the body color, and a bed rug, bed ambient light kit and Mopar design badge round out modifications.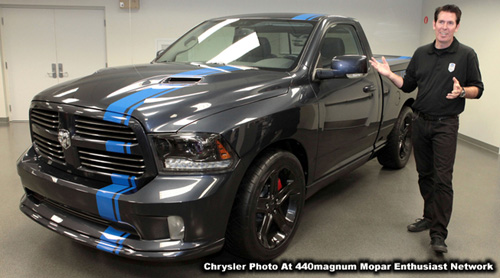 Above: Mark Trostle, Head of SRT, Viper Mopar and Motorsports Design, demonstrates features of the Urban Ram, one of 24 Mopar-modified vehicles that were displayed during the 2012 Specialty Equipment Market Association (SEMA) Show in Las Vegas.