You Are Here: Mopar Information : Muscle Trucks : Dodge Ram SRT10 Yellow Fever Edition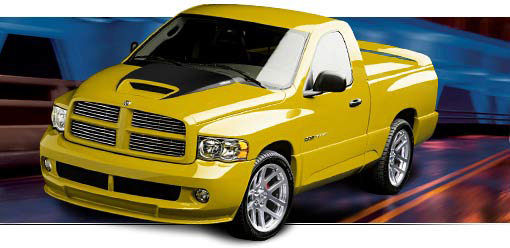 It seems only fitting that the world's fastest production pickup* have the world's coolest paint job. So the design team at Dodge went wild and created the 2005 Dodge Ram SRT10 "Yellow Fever Edition." This limited-production model takes the incredible performance of SRT10's 8.3-litre, 500-horsepower Viper V10 engine and wraps it all in some of the highest-impact Solar Yellow paint you'll ever see.
Above: The Yellow Fever interior featured a combination of leather and suede. Custom embroidery complemented the Solar Yellow exterior and graphics. Things included were climate control, CD stereo, power seats, cruise control, tinted glass and more.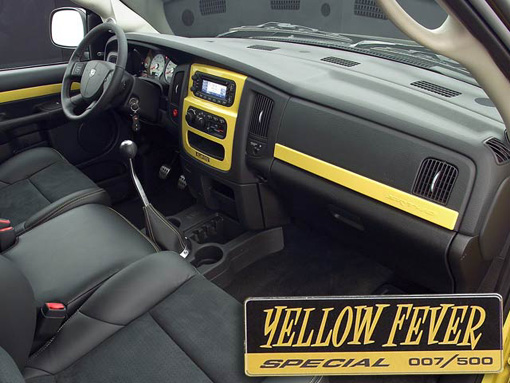 Above: The dash and door panels included yellow-painted accents. Also included was a serialized plaque to indicate the build number of each truck. This one is number 7 of 500.
This future collectible also has a number of other special design features that make it an instant classic:
Unique "fanged" hood stripe.
22-inch polished aluminum wheels.
Special numbered dash plaque.
Yellow centre stack bezel.
Yellow door spears.
Yellow stitching on steering wheel, seats and Regular Cab manual transmission shifter.
Yellow embroidering on SRT10 floor mats.
Under-rail box liner.
Special Yellow Fever Edition badging.
*According to Guiness Book of World Records on February 2, 2004, for Dodge Ram SRT10 Regular Cab model.