You Are Here: Mopar Information : Muscle Trucks : Dodge Ram SRT10 : 2005 Quad Cab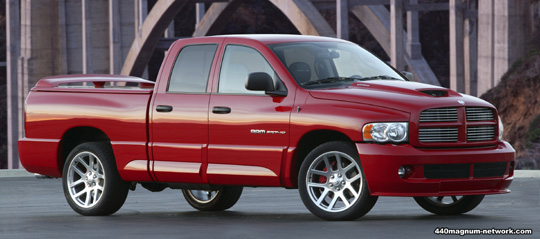 Following up on the success of the original Ram SRT-10 pickup introduced in 2004, Dodge introduces the Ram SRT-10 Quad Cab for the truck enthusiast who wants Viper performance in a pickup truck, along with room for the family and serious towing capacity. Enthusiasts now have two choices of the boldest, most outrageous pickups ever sold.
After all, the Dodge Ram SRT-10 and SRT-10 Quad Cab have what no other pickups can match: an 8.3-liter (505 cu. in.) Viper V-10 engine making 500 horsepower and 525 lb.-ft. of torque. And 90 percent of that power comes on between 1,500 and 5,600 rpm the range in which drivers spend most of their time in normal operation. Beginning with a Dodge Ram 1500 Quad Cab as a starting point, SRT engineers worked their magic with the kind of goodies including a Viper V-10 engine, performance suspension, awesome brakes, race-inspired interior and bold styling.
And, it offers an automatic transmission a super-duty four-speed specially tweaked to provide optimum performance with the capability of towing 7,500 pounds. The Dodge Ram SRT-10 Quad Cab has several other unique features supporting its towing capability, including a special transmission cooler, heavy-duty torque converter, special front and rear strut and spring assemblies and all-season tires.
The Ram SRT-10 Quad Cab rides on 22-inch Viper-style custom wheels and is equipped with Pirelli Scorpion all-season tires. Stopping fast is just as important as going fast, so SRT engineers developed a special braking system for the Ram SRT-10 Quad Cab that utilize heavy-duty Dodge Ram components and unique four-pot opposed-piston calipers that are new for 2005. A three-channel anti-lock braking system (ABS) actuates new custom red brake calipers up front that grip 15-inch rotors, and in the rear, modified heavy-duty red calipers grip 14-inch rotors. Additionally, front brakes are cooled with air ducted from the front fascia to reduce heat build-up.
There's also a unique hood with fully functional air intake that provides additional engine bay cooling. Details befitting the Ram SRT-10's outrageous attitude include "Viper Powered" badges on the hood sides and a specially designed rear fascia with cutout for the massive dual exhaust tips.
The SRT-10 Quad Cab receives a body-colored aluminum tonneau cover over the pickup bed, outfitted with a unique spoiler for aerodynamic efficiency. Special gas struts help in raising and lowering the tonneau cover for easy access to the pickup bed. Body color choices for SRT-10 Quad Cab include black, red and silver. The interior for the Ram SRT-10 Quad Cab is a blend of comfort and performance-bred utility, starting with the Viper-like red starter button on the instrument panel, and following through with race-inspired heavily bolstered seats with suede inserts that grip the occupants. Other interior touches include a leather-wrapped carbon fiber-patterned steering wheel, and brushed metal accents on the instrument panel and door trim panels.
Source Of Photos And Information: DaimlerChrysler Corporation
Own a Dodge Ram SRT10? Get it featured on our network. Click here to submit your Mopar!