You Are Here: Mopar Information : Muscle Trucks : Dodge Ram SRT10 : 2004 Information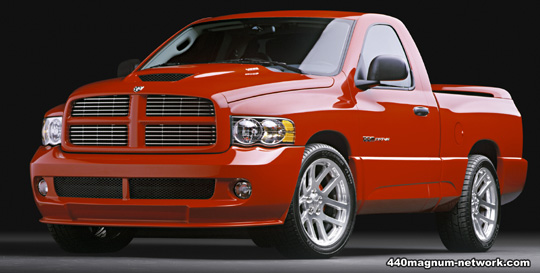 Dodge Unleashes the Fastest and Most Powerful Production Pickup Ever, the 150 MPH Viper-Powered Dodge Ram SRT-10 – The Dodge Ram SRT-10 packs a big Viper punch with a class-demolishing 500 horsepower and 525 lb.-ft. of torque. Topping 150 mph in maximum speed and reaching 60 mph in just over five seconds, Dodge has recalibrated expectations for truck performance. This truck can accelerate like a dragster, yet it is not a coarse hot rod.
The Ram SRT-10 represents a cohesive design that blends brute power with the engineering refinement usually reserved for the world's best sports cars, this is not a bolt-on kit for a Ram. The PVO team has created a new vehicle that blends a race-inspired interior, functional aerodynamics for high speed driving and a modified suspension to maximize handling without sacrificing ride. The Ram SRT-10 has been refined and perfected into a sports truck that is luxurious, fast and represents the ultimate in its class. No truck owner has ever experienced anything like the Dodge Ram SRT-10.
Ram SRT10 V-10 Engine:
The Ram SRT-10's mayhem making ability is delivered courtesy of the highest displacement engine in a factory pickup truck the same 8.3-liter aluminum V-10 that powers America's ultimate sports car, the Dodge Viper. The V-10's horsepower rating easily surpasses all other pickups not to mention virtually every production sports car in the world.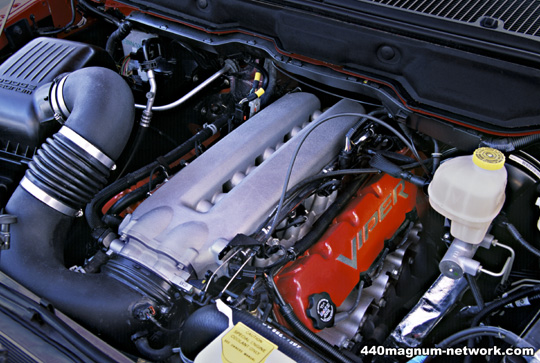 Resting on unique engine mounts; the V-10 engine delivers 90 percent of its whopping 525 lb.-ft. of torque from 1500 to 5600 rpm. The cast aluminum cylinder block has interference-fit cast-iron liners and cross-bolted main caps. The Ram SRT-10 also features a unique oil pan, throttle linkage, new "Hi-Flow" exhaust manifolds, new transmission mounts and a modified Ram Heavy Duty radiator tailored to fit the between the NASCAR inspired grille baffles. The rest of the V-10 is straight from the Viper, with a six main bearing crankshaft with cross-bolted main bearing caps. Despite larger diameter aluminum alloy pistons than the previous generation's 8.0-liter Viper engine, the pistons weigh less and are included along with all-new, lighter and stronger cracked-steel connecting rods.
Cylinder heads on the V-10 are semi-permanent mold (SPM) 356 T6 aluminum alloy. Low-profile die-cast magnesium cylinder head covers feature steel internal baffles and anti-slosh foam. The Viper V-10 boasts a single-piece, central dual-plenum, cast aluminum intake manifold and a single, non-staged two-barrel throttle body for higher peak horsepower RPM. The intake manifold is an all-inclusive Integrated Air and Fuel Module (IAFM) with tubular fuel rails, injectors, sensors, wiring and throttle body. A Ram Heavy Duty cooling system is modified to handle the needs of the new Viper engine. A custom dual exhaust system is mounted to new exhaust manifolds.