You Are Here: Mopar Information : Muscle Trucks : Ram Hemi Sport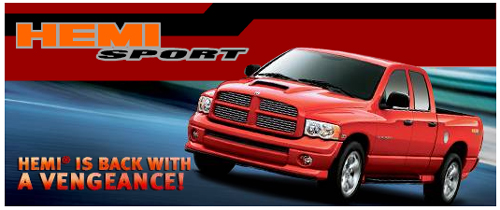 If you've been waiting for a truck that combines four-door roominess and comfort with the pavement-pounding performance of a 345-horsepower 5.7L HEMI Magnum V8, we've got two words for you: HEMI Sport.
This limited-edition future legend starts with a Dodge Ram 1500 Quad Cab SLT shortbox 4×4, drops a HEMI engine under the bulging hood and dresses the whole thing up with a radical list of special equipment listed below. Available in your choice of Black, Flame Red or Bright Silver Metallic, the Ram HEMI Sport is thundering proof that practical and performance really can go together.
• 345-hp 5.7L HEMI Magnum V8 Engine
• Premium Running Boards – Body-Color
• Accent Kit: Front, Rear, Box Side – Body-Color
• Taillamp Guards – Body-Color
• Chrome Exhaust Tip
• Hood Scoop – Body-Color
• Brushed Aluminum Fuel Filler Door
• "HEMI Sport" decal on cargo box
Production of the Ram Hemi Sport started in spring of 2004.  These trucks were offered in both 2004 and 2005.
Source Of Information: DaimlerChrysler Corporation
2004 Dodge Ram HEMI Sport Photo's: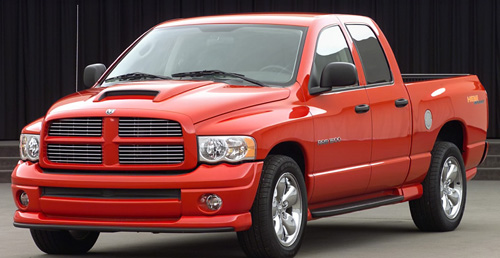 Above: The Dodge Ram 1500 Hemi Sport Edition front view. Introduced in 2004, a Quad Cab version of the Rumble Bee pickup launched the same year. It was available in black, red, or silver, and with either rear-wheel drive or four-wheel drive.

Above: The Dodge Ram Hemi Sport Edition side view. Equipped similarly to the Dodge Rumble Bee but did not include number plaques. The Hemi Sport was discontinued for 2006.
Production Numbers:
Production numbers for the 2004 Dodge Ram HEMI Sport trucks varies according to source. These numbers should only be used as a guideline. Most sources agree that Dodge built around 9600 these cool trucks in 2004.
2004 Dodge Ram HEMI Sport (4×2)
Black = 1281 – Silver = 1184 – Red = 1229    Total = 3694
2004 Dodge Ram HEMI Sport (4×4)
Black = 2063 – Silver = 1663 – Red = 1946    Total = 5672
Total 2004 Production = 9633
We were unable obtain the 2005 Dodge Ram HEMI Sport productions numbers, we will post them if we ever get them.
Featured On The Mopars Of The Month site:
2004 Dodge Ram 1500 Hemi Sport By Eddie Estella
2004 Dodge Ram Sport By Janos Pasztor
2004 Dodge Ram 1500 Hemi Sport By Jason Reuter
2004 Dodge Ram 1500 Hemi Sport By Mark Jensen
2004 Dodge Ram HEMI Sport By Matthew Pankey
2004 Dodge Ram Hemi Sport By Rog
2004 Dodge Ram Hemi Sport By Thomas Mize