You Are Here: Mopar Information : Muscle Trucks : Dodge Shelby Dakota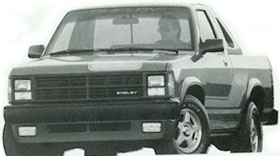 1989 Shelby Dodge Dakota – Until 1989 the mid-size Dodge Dakota Truck was powered only by 4 and 6 cylinder engines. Dodge changed that in "89" by adding the Dakota to the list of vehicles hopped-up by Carroll Shelby. Assembled at Shelby Industries in Whittier, CA. These trucks would be the first Dakota's to receive a V-8. They would also be the first V8 rear wheel drive vehicles built since the 1960's by Shelby.
The Shelby Dakota started life as a standard 112-inch wheelbase Dodge Dakota Sport model. In place of the 3.9-liter V-6, Shelby added a 318 (5.2 liter) cubic inch V-8 with dual throttle body injection. The engine was rated at 175 hp at 4,000 rpm and 270 lbs.-ft. of torque at 2,000 rpm. To make the 318 fit in the Dakota, Shelby Industries had to modify the cooling system. The Dakota had no room for a standard engine driven fan. A electric fan was used to over come this.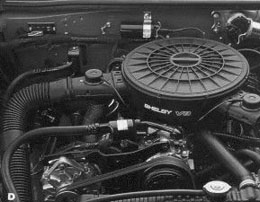 The Shelby Dakota's engine also used a dual snorkel air cleaner that functioned just like older musclecars. Shelby then plumbed the primary snorkel to the grill for cooler air. A four-speed automatic linked to a 3.91-geared Sure-Grip differential rounded out the drivetrain. The heavy-duty suspension was carried over directly from the V6 Dakota Sport and featured Shelby five-spoke aluminum wheels with Goodyear Eagle GT+4s in 225/70HR-15.
On the outside, the Shelby Dakota was available in red or white. The package included a deep front air dam with integrated driving lights, Blacked out trim, Fiberglass light bar, Bold Shelby graphics down the sides including V8 graphics on each fender, Shelby Windsheild Logo and a chrome Shelby logo on the grill.
The interiors on the Shelby Dakota's were identical, the package included a leather wrapped steering wheel with Shelby logo. Shelby dash plaques, Shelby logo cloth inserts on the seats and door panels. Performance was reported at 0-60 in 8.7 seconds and the quarter mile in 16.5 seconds at 82mph. List price for the Dodge Dakota Shelby was $15,813 plus freight.
Dodge Shelby Dakota Production
The Shelby Dakota was only available for one year with production totals around 1,500. (1475 : 480 in white and 995 in red)
Examples on the Mopar Of The Month site:
1989 Dodge Shelby Dakota By Jack Mcknight
1989 Dodge Shelby Dakota By John Evans