2003 Dodge Dakota R/T Information: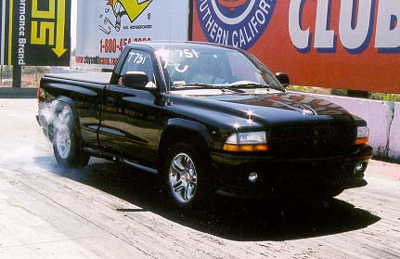 The genesis of the R/T name came from Dodge Truck engineers who in their youth cut their teeth building street rods and looked to bring that feeling of power and performance to the compact truck segment. Dropping a big motor in a small truck provided the performance; truck racing delivered the handling. Today, the Dakota R/T is a performance truck like no other. It meets the highly unique needs of the performance truck enthusiast and provides yet another image beacon for the Dodge brand.
The truck's performance capability is supported with a throaty and powerful-sounding exhaust note. The 250-horsepower (187 kW) engine is mated to a four-speed transmission. Power connects to the pavement with massive 255/55×17-inch tires.
Bringing the R/T to a halt are new-for-2003 standard four-wheel disc brakes with optional ABS. Dakota R/T is lowered one inch compared to other Dakota models, and features unique suspension tuning and front/rear stabilizer bars for added control. Further enhancing its street truck reputation, Dakota R/T is offered only in two-wheel drive. 2003 would be the final year for the Dodge Dakota R/T.
2003 Dodge Dakota R/T Production Numbers
Regular Cab Color: 
Atlantic Blue: (USA) = 14 – (Canada) = 2 – (Export) = 0 – Total = 16
Black: (USA) = 102 – (Canada) = 8 – (Export) = 0 – Total = 110
Bright Silver: (USA) = 30 – (Canada) = 4 – (Export) = 0 – Total = 34
Bright White: (USA) = 24 – (Canada) = 1- (Export) = 0 – Total = 25
Flame Red: (USA) = 61 – (Canada) = 2 – (Export) = 0 – Total = 63
Graphite Metallic: (USA) = 40 – (Canada) = 2 – (Export) = 0 – Total = 42
Total 2003 Dakota R/T Regular Cab Production = 290
Club Cab Color:
Atlantic Blue: (USA) = 58 – (Canada) = 12 – (Export) = 1 – Total = 71
Black: (USA) = 282 – (Canada) = 55 – (Export) = 0 – Total = 337
Bright Silver: (USA) = 119 – (Canada) = 25 – (Export) = 0 – Total = 144
Bright White: (USA) = 47 – (Canada) = 3 – (Export) = 0 – Total = 50
Flame Red: (USA) = 159 – (Canada) = 14 – (Export) = 1 – Total = 174
Graphite Metallic: (USA) = 146 – (Canada) = 27 – (Export) = 0 – Total = 173
Total 2003 Dakota R/T Club Cab Production = 949