You Are Here: Mopar Information : Muscle Cars : Modern Mopars : Dodge Challenger SRT Hellcat : Power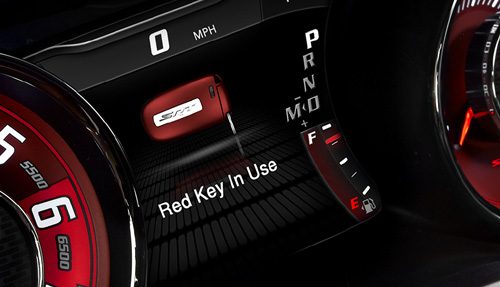 For the first time in Chrysler Group history, the all-new 2015 Dodge Challenger SRT with a Hellcat engine comes standard with two key fobs – red and black. The red key fob is the only key that can unlock the full horsepower and torque potential of the Challenger SRT Hellcat engine; while the black key fob limits the driver to a reduced engine output.
Valet Mode is offered on both Challenger SRT and Challenger SRT with a Hellcat engine. When Valet Mode is activated, the following vehicle configurations are enabled:
Engine is remapped to significantly reduce horsepower and torque; limited to 4,000 rpm
Transmission locks out access to first gear and upshifts earlier than normal
Transmission will treat the manual shifter position the same as the drive position
Traction, steering and suspension are set to their "Street" settings
Steering-wheel paddle shifters are disabled
Drive Mode functions are disabled
Electronic Stability Control (ESC) is enabled to Full-on
Launch Control is disabled
The driver can activate and deactivate Valet Mode with a four-digit PIN code they create.
Source of information and photos: Chrysler
The Mopar related information found in this section is believed to be accurate. The 440magnum Network assumes no responsibility for errors or omissions in anything that is referenced by or linked to and from this site. This information is provided "as is" and was obtained from Chrysler Corporation, WWW, Books and other Reference Materials.