You Are Here: Mopar Information : Muscle Cars : Modern Mopars : Dodge Challenger SRT Hellcat : Modes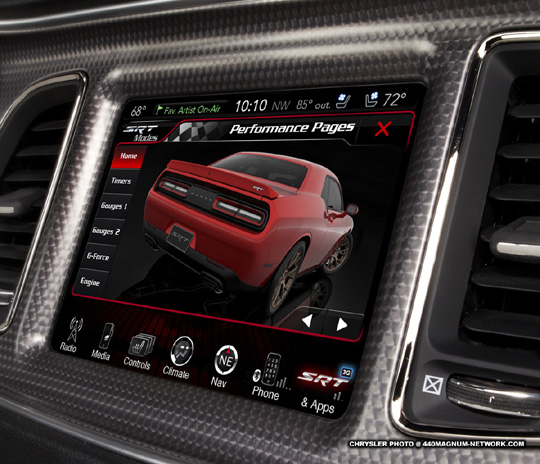 All-new Drive Modes tailor the driving experience to each individual driver
Whether its on-road or on-track, Challenger SRT owners can personalize their drive experience via the all-new Drive Modes feature. Drive Modes tailor the driving experience by controlling horsepower, transmission shift speeds, steering (Challenger SRT only), paddle shifters (automatic transmission only), traction and suspension. Drive Modes are pre-configured for Sport, Track and Default settings, while the Custom setting lets the driver customize the drive experience to their favorite settings.
Custom – Allows the driver to personalize the vehicle's performance
Sport – Delivers increased vehicle performance capability over the Default Mode
Track – Delivers maximum vehicle performance capability on smooth, dry surfaces
Default – Activates automatically when starting the vehicle
The Drive Mode feature is controlled through the Uconnect system and may be accessed by performing any of the following:
Pushing the SRT button on the instrument panel switch bank
Selecting "Drive Modes" from the "SRT & Apps" menu
Selecting "Drive Modes" from within the Performance Pages menu.
Source of information and photos: Chrysler
The Mopar related information found in this section is believed to be accurate. The 440magnum Network assumes no responsibility for errors or omissions in anything that is referenced by or linked to and from this site. This information is provided "as is" and was obtained from Chrysler Corporation, WWW, Books and other Reference Materials.