You Are Here: Mopar Information : Muscle Cars : Modern Mopars : Dodge Challenger SRT Hellcat : Engine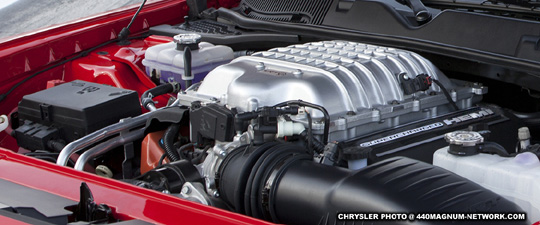 For 2015, the Challenger SRT with a Hellcat engine is propelled by the new supercharged 6.2-liter HEMI V-8. Its 600-plus horsepower rating will be the highest of any V-8 engine in Chrysler Group's celebrated history. The all-new V-8 engine can be mated with an upgraded six-speed manual transmission or a beefy, new TorqueFlite eight-speed automatic – the first such gearbox ever offered in the Dodge Challenger SRT's time-honored segment.
This new HEMI Hellcat engine is Dodge and SRT's first application of V-8 supercharger technology, delivering the full brand experience with fresh potency.
The breakthrough supercharged engine features a forged-steel crankshaft with induction-hardened bearing surfaces. The result is a crank so well-engineered it can withstand firing pressures of 110 bar (1,595 psi) – the equivalent of five family sedans standing on each piston, every two revolutions. And its unique, specially tuned crank damper has been tested to 13,000 rpm.
High-strength, forged-alloy pistons – developed using advanced telemetry measurement – are coupled to powder-forged connecting rods with high-load-capacity bushings and diamond-like-carbon-coated piston pins.
The new supercharged 6.2-liter HEMI V-8 has premium-grade, heat-treated aluminum-alloy cylinder heads that are optimized for superior thermal conductivity. And its die-cast aluminum rocker covers are HEMI Orange.
In addition to the supercharged HEMI V-8 in the Challenger SRT Hellcat, the new 2015 Dodge Challenger SRT model also gets a power boost with upgrades to the 392 HEMI V-8. Horsepower climbs to 485 from 470, while peak torque jumps to 475 lb.-ft. from 470 lb.-ft.
The 392 also can be mated with a new TorqueFlite eight-speed automatic or the proven six-speed manual transmission.
Source of information and photos: Chrysler
The Mopar related information found in this section is believed to be accurate. The 440magnum Network assumes no responsibility for errors or omissions in anything that is referenced by or linked to and from this site. This information is provided "as is" and was obtained from Chrysler Corporation, WWW, Books and other Reference Materials.