You Are Here: Mopar Information : Muscle Cars : Modern Mopars : Dodge Challenger SRT Hellcat : Braking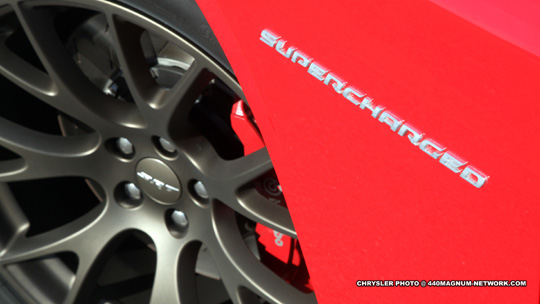 Standard on the 2015 Challenger SRT with the Hellcat engine is the largest front-brake package ever offered in an SRT vehicle, featuring all-new 390-mm (15.4-inch) Brembo two-piece rotors with six-piston calipers for outstanding heat management/thermal capacity and longevity. This upgraded high-performance brake package is available on the 392 HEMI® SRT model as part of the SRT Track Pack.
New anti-lock braking system (ABS), ESC and traction control systems are uniquely tuned and configurable for specific tire and powertrain configurations.
Source of information and photos: Chrysler
The Mopar related information found in this section is believed to be accurate. The 440magnum Network assumes no responsibility for errors or omissions in anything that is referenced by or linked to and from this site. This information is provided "as is" and was obtained from Chrysler Corporation, WWW, Books and other Reference Materials.