You Are Here: Mopar Information : Muscle Cars : Modern Mopars : Chrysler 300 SRT : Safety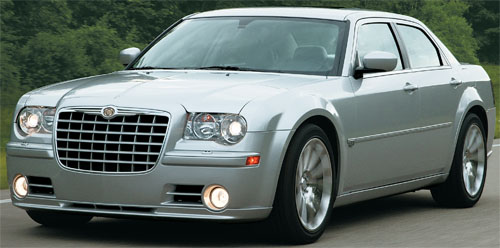 Following are safety and security features available on the Chrysler 300C SRT8:
Advanced Multi-Stage Air Bag System: Inflates with a force appropriate to the severity of the impact. Includes Occupant Classification System (OCS)
Anti-lock Brake System: Electronic sensors that help prevent wheel lockup. The optional ABS system offers improved steering control under extreme braking and/or slippery conditions.
Electronic Stability Program (ESP): This available feature aids the driver in maintaining vehicle directional stability, providing oversteer and understeer control to maintain vehicle behavior on various road surfaces.
Energy-Absorbing Steering Column: Manual-adjust telescoping steering column includes two hydroformed coaxial tubes that move relative to each other, which allows the column to move forward and provide more energy absorption during an impact.
High Intensity Discharge (HID) Lighting: This available feature provides 70 percent more light to increase driver visibility, using XENON bulb technology.
Occupant Classification System (OCS): The OCS measures the conditions for activation or deactivation of the passenger-side front air bag based upon the weight of the occupant.
Rear Park Assist: This available ultrasonic rear obstacle detection system signals through an audible warning and a rear overhead display to avoid potential collisions.
Source Of Information: Chrysler
Information found in this section is believed to be accurate. The 440magnum Network assumes no responsibility for errors or omissions in anything that is referenced by or linked to this site. This information is provided "as is" and was obtained from Chrysler LLC, WWW, Books and other Reference Materials.