You Are Here: Mopar Information : Muscle Cars : Modern Mopars : Chrysler 300 SRT : 2006 In & Out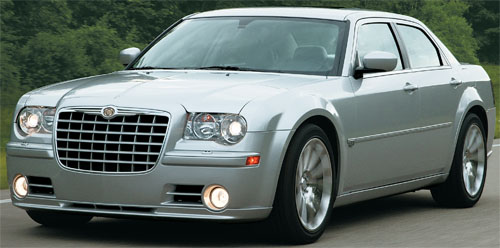 Interior:
Befitting its high-performance character, the 2006 Chrysler 300C SRT8 offers power-adjustable sport seats up front that are fitted with performance suede inserts (matched in the rear seats) which hold the occupants during spirited driving. Seats are also equipped with heat and memory functions that, when paired with the adjustable pedal cluster, are adjustable for every driver.
Steering wheel, shifter and door pulls are covered with "technical" leather trim for positive grip. Other SRT-only trim includes special finishing on the steering wheel, door pulls, door trim and center stack.
Full instrumentation, including a 180-mph (300 kph) speedometer, tachometer and temperature gauges ensure that the driver can monitor crucial functions. A tire pressure monitoring display within the instrument panel display is standard for 2006.
Premium amenities within the 2006 Chrysler 300C SRT8 cabin include a standard AM/FM stereo radio with six-disc CD changer powering a six-speaker Boston Acoustics speaker system, with steering wheel-mounted controls.
Two new-for-2006 options are a 13-speaker Kicker audio system with a 322-watt amplifier and 100-watt subwoofer, and a DVD system with center console-mounted flip-up screen.
Also available are SIRIUS Satellite Radio, which offers hundreds of commercial-free channels, and a UConnect™ hands-free communications system with Bluetooth™ technology. This system recognizes up to seven different Bluetooth-equipped cellular phones and responds to voice commands, utilizing a microphone in the rearview mirror and the stereo system's speakers for hands-free conversations.
Heating and cooling adjustments are made with an automatic temperature control system with dual-zone controls and infrared temperature sensing. Other standard features of the 2006 Chrysler 300C SRT8 include an electronic vehicle information center with 128 customer-programmable features.
The 2006 Chrysler 300C SRT8 interior is offered in a Light Graystone/Dark Slate color scheme.
Exterior:
Street and Racing Technology DNA is evident in the 2006 Chrysler 300C SRT8 exterior styling, in a sophisticated treatment that resonates with the Chrysler brand's premium character.
Modified front and rear fascias direct air flow through unique ducts that cool the brakes. In addition, a specially designed rear deck spoiler, while refined in appearance, is also functional-increasing rear downforce by 39 percent without increasing drag.
Other unique touches to the Chrysler 300C SRT8's exterior include body-color front and rear bumper inserts, body-color mirrors and door handles, and unique SRT badging.
Three exterior colors are available: Bright Silver, Brilliant Black and, new for 2006, Silver Steel.
The 2006 Chrysler 300C SRT8 is built at the Brampton Assembly Plant in Ontario, Canada
Source Of Information: Chrysler
Information found in this section is believed to be accurate. The 440magnum Network assumes no responsibility for errors or omissions in anything that is referenced by or linked to this site. This information is provided "as is" and was obtained from Chrysler LLC, WWW, Books and other Reference Materials.