You Are Here: Mopar Information : Muscle Cars : Modern Mopars : Chrysler 300 SRT : Engine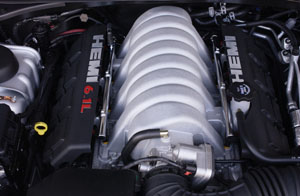 The 425-horsepower, normally aspirated 6.1-liter HEMI is the highest specific-output V-8 engine ever offered by the Chrysler Group. Its 69.8 horsepower-per-liter rating exceeds even that of the legendary 1966 "Street HEMI." Torque is rated at 420 lb.-ft. Although the Chrysler HEMI was born in the 1950s and entered into legend in the 1960s and '70s, today's version took much of its inspiration from the original – particularly the namesake hemispherical combustion chambers that provide power and efficiency.
When SRT set out to develop a more powerful HEMI for the Chrysler 300C SRT8, they were mindful of the engine's heritage, which led to adopting traditional HEMI engine cues, such as an orange-painted cylinder block and black valve covers.
The SRT powertrain engineers who developed the Chrysler 300C SRT8's engine achieved more horsepower by adding more cubic inches, increasing the compression ratio, redesigning the cylinder head intake and exhaust systems for increased flow, and increasing engine speed.
To get more displacement, SRT engineers bored out the diameter of the cylinders in the Chrysler 300C SRT8's HEMI by 3.5 millimeters each, to increase the total displacement to 6.1 liters from 5.7 liters. Compression ratio was also increased to 10.3:1 from 9.6:1, unleashing more energy in the combustion process.
Engine breathing was increased with new high-flow cylinder heads, a specially designed intake manifold, and exhaust "headers" with individual tubes encased in a stainless steel shell, all unique to the 2005 Chrysler 300C SRT8's 6.1-liter HEMI engine. Larger diameter valves and reshaped cylinder ports in the heads allow for maximized air flow. The intake manifold was designed with larger diameter runners for higher-speed tuning. Exhaust is routed through a larger-diameter (2.75-inch vs. 2.5-inch) exhaust system with 3.5-inch chrome tips.
Performance-oriented camshaft profiles were developed to balance total vehicle requirements, simultaneously allowing more air in and out of cylinders. This increases performance and manages a higher engine speed, which is another method to increase horsepower. SRT engineers increased the HEMI's peak engine speed nearly 15 percent, to 6,200 revolutions power minute (rpm) from 5,400 rpm. Intake and exhaust valve stems are hollow, and the exhaust valve stems are filled with sodium to help dissipate heat more efficiently.
The high-performance 6.1-liter HEMI is further strengthened with a host of redesigned components, including a reinforced engine block with increased coolant flow, forged steel crankshaft, high-strength powdered-metal connecting rods, floating-pin pistons (cooled by oil squirters), and an oil pan modified for reduced oil foaming.
The 6.1-liter HEMI's power is channeled through an A580 five-speed automatic transmission with specially calibrated AutoStick driver-selectable range control, which offers fully automatic or manual shifting selection. A heavy-duty four-flange prop shaft sends the torque from the transmission to an upgraded differential and axles.
Source Of Information: Chrysler
Information found in this section is believed to be accurate. The 440magnum Network assumes no responsibility for errors or omissions in anything that is referenced by or linked to this site. This information is provided "as is" and was obtained from Chrysler LLC, WWW, Books and other Reference Materials.