You Are Here: Mopar Information : Muscle Cars : Modern Mopars : Chrysler 300 SRT : 2006 Ride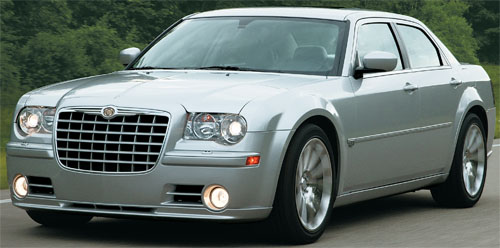 Ride and Handling:
The 2006 Chrysler 300C SRT8 is conditioned for outstanding ride and handling across the dynamic range that customers are likely to experience.
Chassis setup for the 2006 Chrysler 300C SRT8 is aimed at all-around performance with a number of enhancements, including tuned dampers, specially tailored spring rates and suspension bushings and larger diameter anti-sway bars. New front and rear suspension knuckles contribute to a ride height lowered one-half inch from the Chrysler 300C. In addition, the Electronic Stability Program (ESP) has been specially tuned for the Chrysler 300C SRT8's performance handling characteristics.
The 2006 Chrysler 300C SRT8 connects with the road via a new wheel and tire assembly consisting of 20-inch forged aluminum wheels shod with high-performance Goodyear F1 three-season tires (four-season tires are an available option) with asymmetrical tread. Tire dimensions are a beefy 245/45/20 in the front and 255/45/20 in the rear.
Braking:
Braking performance goes hand-in-hand with the 2006 Chrysler 300C SRT8's outstanding acceleration and speed-and the braking system was specially designed to slow and stop the car predictably. At the same time, this system was designed to provide benchmark braking performance, setting a new standard for sedans in its class.
All four wheels feature stout performance calipers developed by Brembo-well-known in racing and high-performance circles-equipped with four pistons for even clamping performance. Up front, the Chrysler 300C SRT8 has 360 x 32 mm vented rotors, with 350 x 28 mm vented rotors in the rear.
This braking system contributes to a 60-0 mph performance in approximately 110 feet, and a 0-100-0 mph time in the mid-16-second range.
Source Of Information: Chrysler
Information found in this section is believed to be accurate. The 440magnum Network assumes no responsibility for errors or omissions in anything that is referenced by or linked to this site. This information is provided "as is" and was obtained from Chrysler LLC, WWW, Books and other Reference Materials.