You Are Here: Mopar Information : Muscle Cars : Classic Mopars : Dodge Demon : 1972 "340"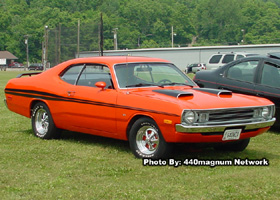 Introduced the previous year, 1972 models featured an updated grille and interior. The base two door coupe started at $2,316 with the 198 C.I. slant six engine. Engine options included the 225 slant six engine a 318 two barrel V-8. Buyers looking for High Performance were offered the "Demon 340".
The Demons 340 engine was one of the biggest changes of 1972. With adoption of net horsepower ratings, the high performance 340 V-8 was now rated at only 240 hp, a "loss" of 35 hp from the previous year.
Compression ratio was dropped to 8.5:1, down from 10.5:1. Despite the hp drop the Demon 340 was still one of the best performing Dodge musclecars in the 1972 lineup. The price of the 1972 Demon 340 rose $38 from 1971.
Horsepower was down on all Chrysler, Dodge and Plymouth engines in 1972. The 426 HEMI an 440 Six Pack engines were no longer available. Leaving the four-barrel 440 V-8 as the top big block engine rated at 280 hp. The second hottest engine in the 1972 Chrysler lineup was the 340 magnum.
1972 was a significant year for auto makers, new federal laws required all automobiles built to run on low lead or no lead gasoline. This required compression ratios to be lowered on High performance engines, including the Demon's 340 engine. All engines were now rated at SAE Net horsepower instead brake horsepower. (SAE horsepower is the theoretical hp with all accessories installed). 1972 would be the last year for the Dodge Demon and Demon 340. 8700 examples of the Dodge Demon 340 were produced in 1972.
Specifications:
The 1972 Dodge Demon 340 engine had a bore and stroke of 4.04 x 3.31, 8.5:1 compression, 240 gross hp @ 4,800 rpm; 290 lb-ft @ 3600 rpm. Wheelbase 108, length 192.5, width 71.6, ground clearance 5.3, weight 3,353, 15.9 feet of usable trunk space.
The Mopar related information found in this section is believed to be accurate. The 440magnum Network assumes no responsibility for errors or omissions in anything that is referenced by or linked to and from this site. This information is provided "as is" and was obtained from Chrysler Corporation, WWW, Books and other Reference Materials.