You Are Here: Mopar Information : Muscle Cars : Classic Mopars : Dodge Demon : 1971 "340"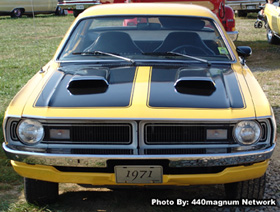 Introduced in 1971, the Dodge Demon was offered in two models. The base two door coupe was priced at $2,343 and came standard with your choice of the 198 C.I. Slant Six or the 318 C.I. V-8.
Buyers looking for performance opted for the "Demon 340". Priced at $2,721 the Demon 340 was the most affordable Dodge muscle car produced in 1971.
The Demon was motivated by Chrysler's 275 hp four barrel 340 V-8 engine. A heavy duty three-speed manual transmission with floor shifter was standard.
A Rallye Suspension Package with heavy duty front torsion bars, front stabilizer bar, rear springs and shock absorbers was also included. Underneath the Demon 340 featured 10×2¼ front drum brakes and 10×1¾ drums on the rear. E70x14 wide tread bias belted tires were used on 14×5.5 wheels. On the inside, a vinyl front bench seat was standard, with interior colors available in blue, tan or black. Instrumentation included the Rallye instrument cluster with a 150 mph speedometer.
On the outside, buyers had a choice of fourteen standard colors and four extra cost, High Impact colors. Vinyl roofs were also available as an option. Body side tape stripes in white or black were standard. Dodge also offered numerous performance related options for the Demon 340 model. Buyers could opt for a heavy duty four speed manual transmission or a high upshift three speed TorqueFlight automatic transmission. Appearance options included Dual hood scoops and a blacked out hood paint treatment. Hood pins and a rear spoiler were also available options. Interior options included cloth and vinyl bench seats, vinyl bucket seats, center console, a thick rim 14½ inch diameter Tuff steering wheel. A 6000 rpm tachometer was also available. 10,098 Dodge Demon 340's were produced in 1971.
Road Test magazine tested a Dodge Demon 340 automatic in April 1971. They found the following:
0-60: 7.8 seconds | 1/4 mile: 14.56 seconds @ 96 mph | Estimated top speed: 127 mph | Fuel economy: 14.3 City – 16.7 Highway
Specifications:
The 1971 Dodge Demon 340 engine had a bore and stroke of 4.04 x 3.31, 10.5:1 compression, 275 gross hp @ 5,000 rpm; 340 lb-ft @ 3200 rpm. Wheelbase 108, length 192.5, width 71.6, ground clearance 5.3, weight 3,353, 15.9 feet of usable trunk space.
The Mopar related information found in this section is believed to be accurate. The 440magnum Network assumes no responsibility for errors or omissions in anything that is referenced by or linked to and from this site. This information is provided "as is" and was obtained from Chrysler Corporation, WWW, Books and other Reference Materials.