You Are Here: Mopar Information : Muscle Cars : Classic Mopars : Plymouth Sport Fury 3/23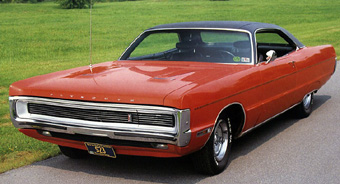 Plymouth introduced two performance versions of the Sport Fury in 1970. The Sport Fury GT and the Sport Fury S/23. Based on the 2 door Fury hardtop, the standard engine on the S/23 was the 318 c.i. V-8 engine rated at 230 hp.
Optional engines included the Commando 383 c.i. 2-barrel engine rated at 290 hp and the Super Commando 383 c.i. 4-barrel engine rated at 330 hp.
The Sport Fury S/23 was designed to combined luxury and performance in a big car. Plymouth Fury S/23s powered by the 318 or 383 2-barrel V-8's were available with a 3 speed manual or an optional Torqueflite automatic transmission. 383 Super Commando powered S/23 came standard with a Torqueflite automatic transmission and dual exhaust. Underneath Plymouth gave the S/23 a front anti-sway bar and Rallye Road Wheels and a standard 3.23:1 axel ratio a 2.76:1 ratio was also an option.

On the inside the Sport Fury S/23 was offered with a cloth-and-vinyl or all vinyl bench seat with fold down center armrest. Optional all-vinyl buckets could be added for that added performance touch. If buckets were your style, a console was also available. The Instrument panel was floodlit and easy to read and reach.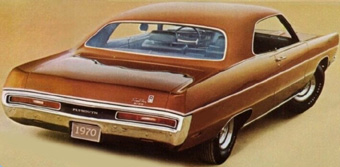 On the outside the Fury S/23 featured hidden headlamps, two power bulges on the hood. Dual hood runner stripes in either white, black or burnt orange. And reflective "Strobe Stripes" on the side and rear deck lid.
The S/23 designation appeared on the rear deck lid. Only 689 Sport Fury S/23's were produced in 1970.
The Mopar related information found in this section is believed to be accurate. The 440magnum Network assumes no responsibility for errors or omissions in anything that is referenced by or linked to and from this site. This information is provided "as is" and was obtained from Chrysler Corporation, WWW, Books and other Reference Materials.