You Are Here: Mopar Information : Muscle Cars : Classic Mopars : 1970 Plymouth AAR Cuda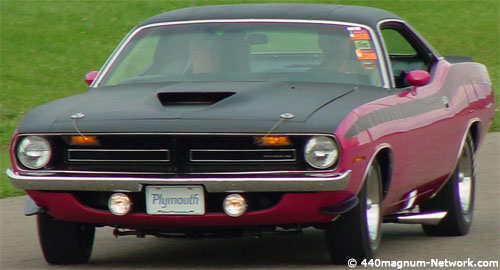 Plymouth turned the heat up on the competition in 1970, with a redesign of the Barracuda. Buyers were offered 3 models: Barracuda, Barracuda Gran Coupe and the performance equipped 'Cuda.
For Mopar gear heads 'Cuda buyers had a wide choice of performance V8 engines. 340, 383, 440 and the legendary 426 HEMI. In February of 1970, Plymouth announced addition of the AAR 'Cuda. Available mid-year, the race inspired All American Racers Plymouth 'Cuda was only offered in 1970.

1970 Plymouth AAR 'Cuda

1970 Plymouth AAR Race 'Cuda

1970 Plymouth AAR 'Cuda Photos

1970 Plymouth  AAR 'Cuda A-53 Package
The Mopar related information found in this section is believed to be accurate. The 440magnum Network assumes no responsibility for errors or omissions in anything that is referenced by or linked to and from this site. This information is provided "as is" and was obtained from Chrysler Corporation, WWW, Books and other Reference Materials.