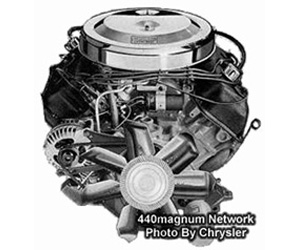 Engine Type: OHV V-8
Piston Displacement: 426 cu. in.
Bore And Stroke: 4.25″ x 3.75″
Compression Ratio: 10.1 to 1
Horsepower @ R.P.M.: 425 @ 5000
Torque, lb-ft. @ R.P.M.: 490 @ 4000
Fuel Recommendation: Premium
In 1966, Chrysler began offering a slightly tuned-down version of the 426 HEMI race engine (called the "street HEMI") as an option in Plymouth Belvederes, Dodge Coronets and Chargers. The cylinder head configuration with a nearly centrally located spark plug in a hemispherically shaped combustion chamber gave the classic HEMI engine its name.
This unique architecture has an inherent airflow that translates into big power. The street HEMI came with dual, four-barrel carburetors mounted on an aluminum dual-plan intake manifold. The engine's advertised horsepower and torque were 425 hp and 490 lb.-ft. of torque.
About 10,000 426 HEMIs were manufactured for street use in the engine's five-year run. Today, restored true HEMI cars command very high price tags.
Source Of Information: Chrysler Corporation