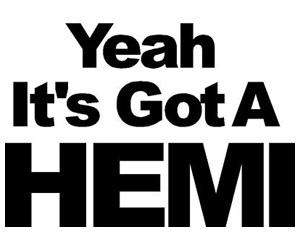 A journey through Chrysler's HEMI engine history.
2005 – Chrysler 300C and Dodge Magnum R/T are the first modern, production North American vehicles to feature cylinder deactivation – the Chrysler Group Multi-Displacement System (MDS) turns off four cylinders in the 5.7-liter HEMI engine when V-8 power is not needed for up to a 20-percent fuel savings.
2005 – The Street and Racing Technology (SRT) team develops a 6.1-liter version of the HEMI to power future Chrysler Group SRT8 models – the 425 hp engine is the highest-rated specific-output naturally-aspirated V-8 ever offered by the Chrysler Group. Its 69.8 horsepower-per-liter rating exceeds even that of the legendary 1966 "Street HEMI." Torque is rated at 425 hp at 6,000 rpm 420 lb.-ft. at 4,800 rpm.
2005 – The 6.1-liter HEMI engine has more displacement with larger cylinder bores compared to the 5.7-liter.
2005 – The compression ratio was boosted from 9.6:1 to 10.3:1 for more energy in the combustion process.
2005 – Engine breathing in the 6.1-liter was increased with new high-flow cylinder heads, a specially designed intake manifold and exhaust "headers" with individual tubes encased in a stainless-steel shell. Exhaust is routed through a 2.75-inch exhaust system.
2005 – A unique camshaft profile maximizes power in the 6.1-liter HEMI.
2005 – The Chrysler 300C SRT8 is the first two SRT8 products announced – both packing the new 6.1-liter HEMI engine.
2005 – For the first time ever, a HEMI is available in a Jeep – the all-new Jeep Grand Cherokee is available with 5.7-liter HEMI.
2005 – MDS is standard equipment with the HEMI in Jeep Grand Cherokee – the first time cylinder deactivation is offered in a sport utility vehicle.
2005 – The 5.7-liter HEMI is named one of Ward's 10 Best Engines for the third year in a row.
2005 – The one-millionth modern HEMI engine roars off the assembly line.
2006 – The all-new Dodge Charger R/T powers it's way back to the streets and racetracks across America with 5.7-liter HEMI, paying homage to the muscle cars of the '60s, and adding 21st century performance and functionality.
2006 – The Dodge Charger Daytona includes a unique high-performance exhaust and induction system to allow the 5.7-liter HEMI to produce 350 hp with a distinctive throaty exhaust tone.
2006 – Chrysler Group is the first to offer cylinder deactivation in a pickup truck – MDS made standard equipment with the HEMI 5.7-liter engine.
2006 – MDS is added to HEMI-powered Dodge Durango.
2006 – Chrysler Group MDS is standard equipment on Chrysler 300C and Dodge Magnum R/T, Charger R/T, and it is standard on 5.7-liter HEMI-powered Jeep Grand Cherokee, Jeep Commander, Dodge Durango and Ram 1500.
2006 – The SRT lineup is expanded to now include the Dodge Magnum SRT8, Dodge Charger SRT8 and Jeep Grand Cherokee SRT8 – all powered by the 6.1-liter HEMI.
2007 – There will be nearly one million vehicles on the road equipped with Chrysler Group's MDS.
2007 – With the addition of MDS to HEMI-equipped Dodge Durango and Ram, MDS-equipped vehicles through the end of the 2007 model year will save more than 60 million gallons of fuel each year.
Please Note: This information is provided "as is" and is for information purposes only. This production information is believed to be accurate the 440magnum Mopar Enthusiast Network makes no guarantees on the accuracy of this information. This information was obtained from the Chrysler archives, books, www, and other reference materials.