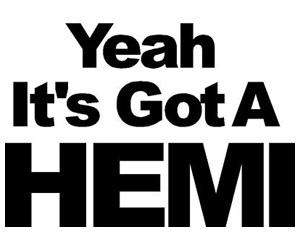 A journey through Chrysler's HEMI engine history.
1964 – A.J. Foyt wins Firecracker 400 at Daytona; Plymouths or Dodges lead every lap.
1964 – Chrysler introduces the 426 c.i.d. race HEMI into competition.
1964 – Richard Petty debuts the 426 HEMI and laps the field while winning the Daytona 500.
1964 – Three HEMI -powered Plymouths and a HEMI Dodge sweep Daytona 1-2-3.
1964 – HEMI-powered stock cars win 26 of the 62 NASCAR Grand National races.
1964 – Richard Petty captures his first of seven driving championships with eight wins, 37 top-five finishes.
1964 – Don Garlits breaks 200 mph quarter mile barrier in HEMI dragster – 201.34 mph in 7.78 sec.
1964 – Jim Thornton wins 1964 U.S. Nationals in Ramcharger's "Candymatic" 426 HEMI Dodge.
1964 – Jim Paschal wins NASCAR World 600 at Charlotte Motor Speedway in HEMI-powered Plymouth.
1965 – NASCAR outlaws HEMI by setting minimum production levels for street use.
1965 – Bob Summers sets present 409.227 mph Land Speed Record in "Goldenrod" using 4 HEMI's in tandem.
1965 – Shirley Shahan becomes first female to win major NHRA event driving a HEMI Plymouth.
1966 – Chrysler builds the "Street HEMI" and returns to NASCAR racing.
1966 – Richard Petty again wins Daytona 500 in his HEMI Plymouth Belvedere.
1966 – HEMI Dodge Charger wins the NASCAR Championship, Plymouth is second.
1966 – Norm Nelson wins USAC stock car championship with seven wins in a HEMI Plymouth.
1967 – Richard Petty wins an incredible 27 Grand National races in HEMI Plymouth; 10 in a row.
1967 – Richard Petty wins his second NASCAR championship in his HEMI Plymouth.
1967 – Don White's Charger gives HEMI cars second USAC championship in a row.
1968 – Sox and Martin win three major AHRA events; Ronnie Sox named AHRA Driver of the Year.
1968 – Dodge and Plymouth produce a limited number of 426 HEMI Super Stock Darts and Barracudas.
1968 – Road Runner, first budget muscle car, is introduced by Plymouth; available with 426 HEMI option.
1969 – Dodge introduces Charger 500 HEMI, which wins 22 NASCAR races.
1969 – The "winged" 1969 Dodge Charger Daytona with HEMI power reigns over NASCAR superspeedways.
1970 – Buddy Baker is the first to break 200 mph on a closed course in a HEMI Dodge Charger Daytona stock car.
1970 – Bobby Isaac sets a closed course speed record – 201.104 mph – in a Dodge Charger Daytona after winning the NASCAR championship.
1970 – Sox and Martin HEMI Plymouths win 17 major championships and are runners-up in all other major events.
Please Note: This information is provided "as is" and is for information purposes only. This production information is believed to be accurate the 440magnum Mopar Enthusiast Network makes no guarantees on the accuracy of this information. This information was obtained from the Chrysler archives, books, www, and other reference materials.