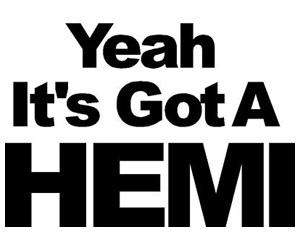 A journey through Chrysler's HEMI engine history.
1939 – Chrysler begins design work on first HEMI, a V-16 for fighter aircraft.
1951 – Chrysler stuns automotive world with 180 hp HEMI V-8 engine.
1951 – Chrysler New Yorker convertible paces Indianapolis 500 race.
1951 – Saratoga first in Stock Car Class; second overall in Carrera Pan-Americana road race.
1951 – Briggs Cunningham chooses HEMI engines for his Le Mans race cars.
1952 – A special HEMI is tested in a Kurtis Kraft Indy roadster; it's banned by racing officials as too fast.
1953 – Lee Petty's HEMI Dodge wins five NASCAR races and finishes second in championship points.
1953 – Cunningham's C-4R HEMI wins 12 Hours of Sebring and finishes third at Le Mans.
1953 – A Dodge HEMI V-8 breaks 196 stock car records at Bonneville Salt Flats.
1954 – A Chrysler HEMI with 4-barrel and dual exhausts makes 235 hp.
1954 – Lee Petty wins Daytona Beach race in a Chrysler HEMI.
1954 – Lee Petty wins NASCAR Grand National championship driving Chrysler and Dodge HEMI's.
1954 – Cunningham HEMI's win Sebring again, third and fifth at Le Mans.
1954 – Dodge Red Ram HEMI convertible paces Indy 500.
1955 – Chrysler introduces the legendary 300 as America's most powerful stock car.
1955 – Chrysler "300" with dual 4-barrel 331 c.i.d. HEMI is first production car to make 300 hp.
1955 – A Carl Keikhaefer-prepared Chrysler 300 wins at Daytona Beach with Tim Flock driving.
1955 – Chrysler bumps HEMI to 250 hp in New Yorker and 280 hp in Imperial.
1955 – Frank Mundy wins AAA Championship in Kiekhaefer-prepared Chrysler 300.
1956 – DeSoto Fireflite HEMI convertible paces Indianapolis 500.
1956 – Chrysler 300-B HEMI increased to 354 c.i.d. and 340 hp with dual 4-barrels.
1956 – Buck Baker wins NASCAR Grand National Championship in Chrysler 300-B with 14 wins.
1956 – Chrysler 300-B sets World Passenger Car speed record at Daytona Beach – 133.9 mph.
1956 – Don "Big Daddy" Garlits begins 46-year winning association with Chrysler HEMI's.
1957 – Chrysler 300-C HEMI increased to 392 c.i.d. and 375 hp.
1958 – Last year of HEMI engine in Chrysler 300 models.
1958 – Don "Big Daddy" Garlits breaks the 170 mph barrier in his "Swamp Rat" HEMI dragster.
1958 – Chrysler 300-D HEMI sets a Class E speed record at Bonneville at 156.387 mph.
1959 – Original Ramchargers debut "High & Mighty" HEMI-powered C/A (altered class) '49 Plymouth to win NHRA Nationals.
Please Note: This information is provided "as is" and is for information purposes only. This production information is believed to be accurate the 440magnum Mopar Enthusiast Network makes no guarantees on the accuracy of this information. This information was obtained from the Chrysler archives, books, www, and other reference materials.