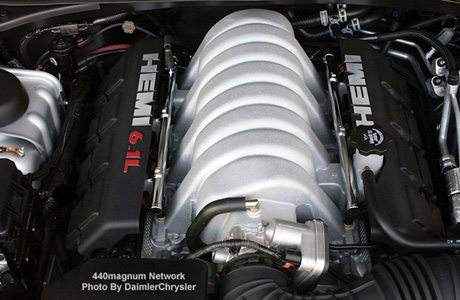 Dimensions are in inches (millimeters) unless otherwise noted.
ENGINE: SRT 6.1-LITER HEMI V-8
Type and Description: 90-degree V-type, liquid-cooled
Displacement: 370 cu. in. (6059 cu. cm)
Bore x Stroke: 4.06 in. x 3.58 in. (103.0 x 90.9)
Valve System: Pushrod-operated overhead valves, 16 valves, conventional hydraulic lifters, all with roller followers.
Fuel Injection: Sequential, multi-port, electronic, returnless.
Construction: Deep-skirt cast-iron block with cross-bolted main bearing caps, aluminum alloy heads with hemispherical combustion chambers
Compression Ratio: 10.3:1
Power (estimated SAE net): 425 bhp (318 kW) @ 6000 rpm, (69.8 bhp/L)
Torque (estimated SAE net): 420 lb.-ft. (569 N•m) @ 4800 rpm
Max. Engine Speed: 6400 rpm (electronically limited)
Fuel Requirement: Premium recommended
Oil Capacity: 7 qt. (6.6L)
Coolant Capacity: 14 qt. (13.25L)
Emission Controls: Dual close-coupled three-way catalytic converters, quad heated oxygen sensors and internal engine features
Source: Chrysler
The Mopar related information found in this section is believed to be accurate. The 440magnum Network assumes no responsibility for errors or omissions in anything that is referenced by or linked to and from this site. This information is provided "as is" and was obtained from Chrysler Corporation, WWW, Books and other Reference Materials.