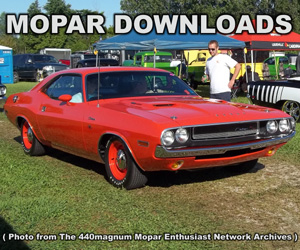 Mopar Downloads : Home

VIN Decoder
Software that can decode your 1966 thru 1974 Chrysler, Dodge, Plymouth and Imperial car vins. Display's year, make, model, engine, horsepower rating, and production plant.
100% Free Mopar VIN Decoder & VIN Lookup for your Windows based pc. One of our most popular enthusiast downloads!
Mopar VIN Decoder Version 3.0a: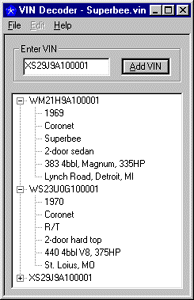 Software Features Include:
Decodes 1966-1974 VINs
Works on Chrysler, Dodge, Plymouth, and Imperial cars.
Display year, make, model, engine, horse power rating, and production plant.
*new* Load / Save VINs for future reference!
*new* Now if there is insufficient information to decode an item, there will be a reasonable guess, and a '?' at the end of that line. i.e.. (A Challenger before 1970)
Resizable window allows you to look at more than one VIN at a time.
Collapsible tree structure makes it easy to read your VINs.
NOTE: 6th digit is numeric… The most common mistake made using this program is when someone mistakenly puts the Letter o in it, instead of the number 0.

Click Here To Download
The V.I.N. decoder software on our site is free for your personal use at home or work. This software may not be posted to other web sites or pages or used in any way without written permission from the author. This software is provided "as is" and is for information purposes only. The results/information is believed to be accurate, but the 440magnum Mopar Enthusiast Network makes no guarantees on the accuracy of this software.