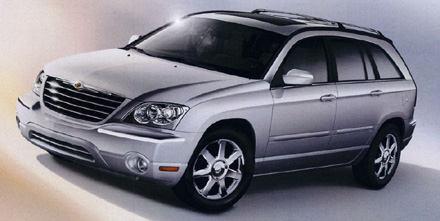 You are here: Mopar Directory : Chrysler : Pacifica
Welcome to our Chrysler Pacifica Directory! A comprehensive list of Links to personal web sites devoted to Chrysler Pacifica vehicles.

Chrysler Pacifica (crossover) – Wikipedia – The Chrysler Pacifica is a mid-size crossover produced by Chrysler from 2003 to 2007, for the model years 2004 to 2008. In January 2016, the Pacifica name was revived for a 2017 model year minivan, which debuted at the North American International Auto Show as a replacement for the Chrysler Town & Country.

2004, 2005 and 2006 Chrysler Pacifica Review – 2004 to 2006 Chrysler Pacifica car review at allpar.com.
Have a personal site or related resource devoted to Chrysler Pacifica vehicles? Submit your Chrysler Pacifica site for review and inclusion in 440magnum Mopar Enthusiast Directory.