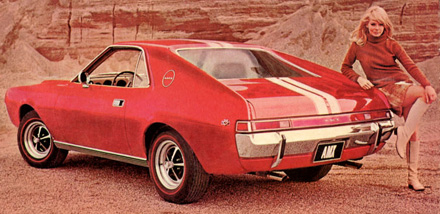 You are here: Mopar Directory : AMC : Amx
Welcome to our AMC Amx Directory! A comprehensive list of Links to personal and business web sites devoted to American Motors Corporation Amx vehicles. Produced from 1968 through 1970, the AMX was a two-seat GT-style muscle car. Buyers opting for the 390 cu in (6.4 L) AMC V8 engine were treated to a top-notch performance car at an affordable price. After three model years, the two-seat AMX was discontinued.

AMC AMX – Wikipedia – The AMC AMX is a two-seat GT-style sports car that was produced by American Motors Corporation for the 1968 through 1970 model years. The AMX was also classified as a muscle car, but "unique among other American cars at the time due its short wheelbase".

1968 AMC AMX By Dene Hendricks – 1968 AMC AMX, round tube chassis, 511 low deck mopar 14 comp, edelbrock heads 720 lift cam, 1978 400 block 2 speed trans 5400 stall, 9 in ford 430 gears.